Walnut Furniture From Cumbria Kitchen & Bedroom Furniture
Walnut is grown in Europe, America and Asia and is one of the most prized cabinet making wood as it has all the best characteristics of hardwood.
Bespoke Walnut Kitchen
Bespoke Walnut Furniture
Furniture made from walnut shouts quality and sheer luxury.
It is very strong and durable, varying in colour from light to dark chocolate brown with a straight grain, burls, mottles, crotches, curls and butts.
It is an extremely versatile timber and well suited to a wide range of furniture design, from the contemporary to the more traditional.
This is an example of a traditional framed shaker kitchen made from walnut, combined with stainless steel handles to give a modern feel.
Walnut Doors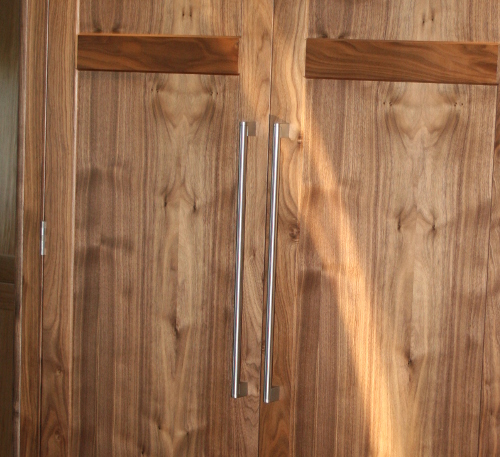 Walnut Doors
The nature of walnut means the most minimalistic design stands out and makes a statement.
It gives a sense of warmth and comfort, and furniture made from walnut is an investment to be treasured for years.
So whether you are going for the traditional or modern or even the contemporary look Walnut is the perfect hardwood.
Walnut Pan Drawer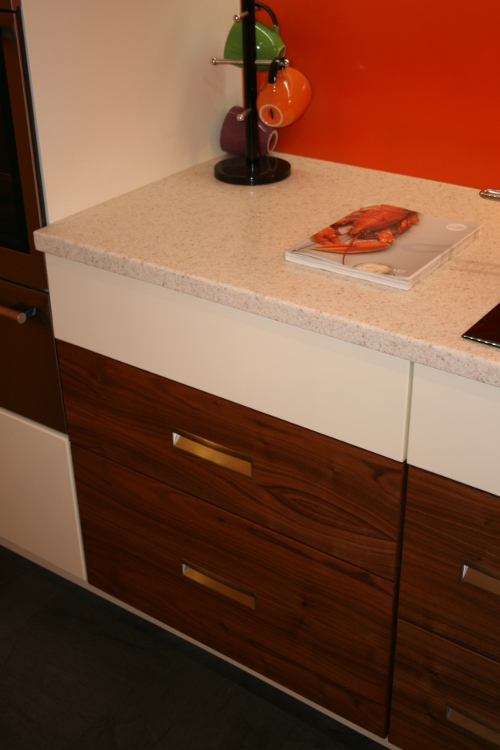 Walnut Pan Drawer
Shown here is an example of a contemporary style kitchen using a mixture of walnut drawer fronts with recessed steel handles, and contrasting hand sprayed coloured lacquer doors.
The deep set drawer is ideal for storing your pots and pans of all sizes or your casserole dishes.
A separate internal drawer keeps all your lids tidied away, meaning your pans can be stacked, utilising the space to its full potential.
To see more photos please click Walnut Furniture Gallery
Please click Showroom Gallery for a taster of what to expect from your visit to Cumbria Kitchen & Bedroom Furniture.