Free Standing Kitchens From Cumbria Kitchen & Bedroom Furniture
The kitchen is loved by many people and provides the centre point for most things throughout the home.
Bespoke Free Standing Kitchens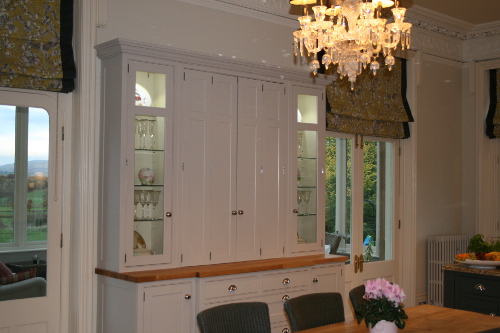 Bespoke Free Standing Kitchens
Our free standing kitchen furniture pieces are hand crafted for the real enthusiast. Each piece is a classic of the best of British kitchen design.
From stand alone chef's pantry through to a classic centre island to a mobile butcher block trolley our free standing bespoke furniture will give you an ageless look.
Whether you are preparing food, storing wine or shelving for your cookery books we can do it all.
As pictured is a free standing in frame dresser with solid oak butcher block worktop complete with bi-fold opening doors.
Free Standing Dresser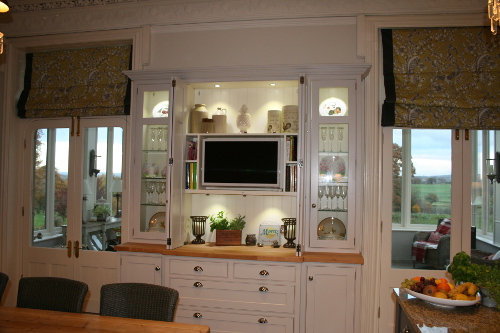 Free Standing Dresser
This smart and elegant free standing dresser with bi-fold doors in the open position neatly integrates the television.
The bi-fold doors open allow full depth worktop space. The glazed dresser provides a link with the working part of the kitchen and affords stylish display and storage for glasses and china.
The deep drawers have a break front flanked by high line base cabinet giving that elegant look.
Cupboard knobs and cup handles in a brightly finished chrome adorns this beautiful dresser.
Around the dresser is a rich hand made solid oak worktop finger jointed. We have placed a deep cornice to the top of the cabinets to harmonise with the interior architecture of this period home.
Free Standing Chef's Pantry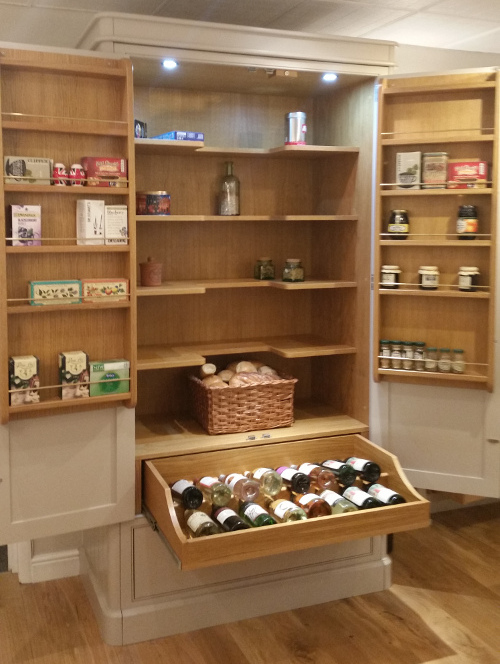 Free Standing Chef's Pantry
With its classically simple lines and timeless feel our free standing Chef's Pantry offers unrivalled storage space, as seen in our picture are shaped adjustable shelves, spice racks, a beautiful hand crafted pull out wine drawer which fully extends to make access easy and deep bottom storage drawer is a must in any cooks kitchen.
The softened corners with double V grooved end panels and Edwardian cornice adds to its overall ageless look. Of course as with all our handmade furniture the actual design choice is your own.
All our internal layouts can be altered to suit your own individual needs, this can include bread and cake's drawer or internal chopping board the list is endless.
Our aim is to design something that would be easy on the eye and you are never going to have to change, or want to change.
To see more photos please click Free Standing Kitchen Gallery
Please click Showroom Gallery for a taster of what to expect from your visit to Cumbria Kitchen & Bedroom Furniture.