Hand Painted Furniture From Cumbria Kitchen & Bedroom Furniture
Painted kitchen and bedroom furniture is not new, it has been around for decades.
Bespoke Hand Painted Furniture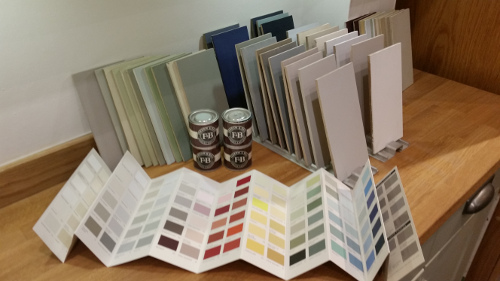 Bespoke Hand Painted Furniture
Painted furniture is at the height of fashion so don't limit yourself to a soulless mass produced look.
Our elegant bespoke kitchen and bedroom furniture are hand painted to order in any choice of colour from our extensive palette including Farrow & Ball, Little Greene paint companies and many more.
The hand painted furniture will settle timelessly into your home. Each piece is individually painted before our cabinet makers construct the furniture which gives you a perfect paint finish.
Each colour will work well alone or mixed with other colours, the lighter creates a well balanced look, while the darker shades drawn from tried and tested heritage colours, this allows you to create your own unique look.
Bespoke Hand Painted Kitchen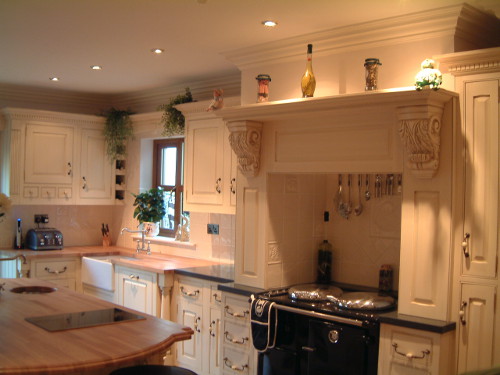 Bespoke Hand Painted Kitchen
Pictured here is our beautiful hand crafted, hand painted, in frame Georgian style kitchen.
Each detail of this painted kitchen exudes quality craftsmanship.
Drawing inspiration from the Georgian era this design features detailed mouldings for that distinctively classic style, conveying a piece of past refinement to create a stunning centre piece.
Of course we can hand paint your kitchen in any colour palette you wish or indeed any timber finish too, including European Oak, American Oak, Pippy Oak, Tulip Wood, Ash, Maple and much more.
This design incorporates different worktop materials showing staron solid surface and solid Oak tops with a stunning Belfast sink. Turned legs, large corbels and castellated cornice gives this kitchen a classic look.
Bespoke Hand Painted Bedroom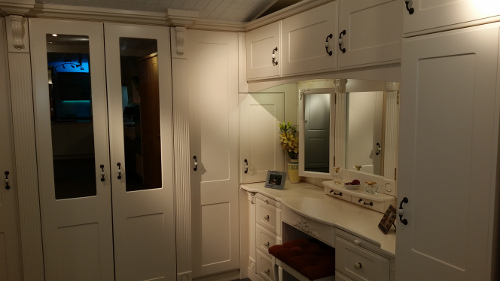 Bespoke Hand Painted Bedroom
Here the classical flowing simplicity of this hand painted Bedroom suits an almost Grecian sense of ease.
Hand finished in Farrow & Ball white tie gives this bespoke bedroom a neutral feel. This subtle gentle colour is set off by the beautiful crackled real bone handles.
Our hand painted bedroom furniture is available in any colour you choose. We can hand paint on many surfaces including Oak, Tulip wood, Maple, MDF and much more, depending on the look and style you are trying to achieve.
Our aim is to design something that would be easy on the eye and you are never going to have to or want to change.
To see more photos please click Hand Painted Gallery
Please click Showroom Gallery for a taster of what to expect from your visit to Cumbria Kitchen & Bedroom Furniture.