Home Offices From Cumbria Kitchen & Bedroom Furniture
Home offices are becoming increasingly popular, more and more people want work from the comfort of their own home.
Home Office With Glass Desk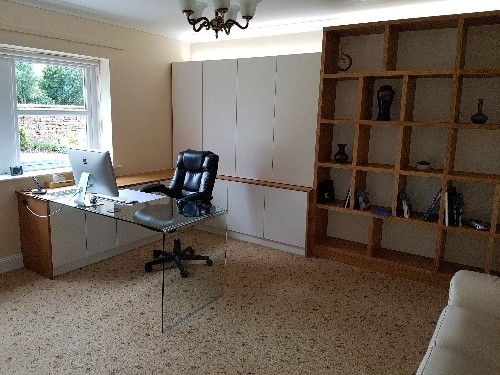 Bespoke Home Offices
At Cumbria Kitchen & Bedroom Furniture we aim to create a space that works for you.
With the home office it can be hidden behind doors and would look like a simple wardrobe or it can be an open plan office area and all manufactured in our own workshops.
All of our bespoke fitted furniture is available in a range of woods including, Maple, Ash, Pippy Oak, Oak, European Oak, Tulipwood, Sweet Chestnut and many more with a huge colour pallet to chose from.
Heavy Duty Internal Filing Drawer
Heavy Duty Internal Filing Drawer
A variety of different features can be included when creating a home office, as you can see from the picture filing drawers containing business or personal documents can be stored neatly in one place and out of sight.
We can also manufacture lockable drawers/doors which will provide you with a more secure storage space, sliding shelves which smoothly slide out to give you easy access to equipment like keyboards, printers, shredders etc. and can be hidden away again when not in use, a desk or workstation to provide an area that works for you and the room space.
Home Work Station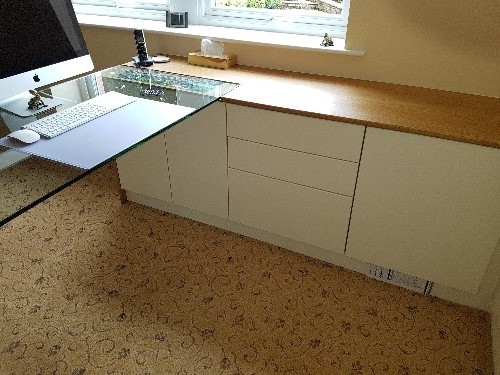 Home Work Station
Soft close drawers can be incorporated into the desk with pen trays to keep all stationary organised in your desk, a perfect way to keep your drawers from becoming cluttered.
The pop up power dock can be installed to prevent any cables from being seen and taking up space on your desk, a simply gadget that can be pushed back into the work surface when no longer in use.
To see more photos please click Home Office Gallery
Please click Showroom Gallery for a taster of what to expect from your visit to Cumbria Kitchen & Bedroom Furniture.