Contemporary Kitchens From Cumbria Kitchen & Bedroom Furniture
Contemporary kitchens are some of our most exciting projects, embracing simple design, technical innovation, and high-quality materials with the durability to stand up to the demands of the modern life.
Bespoke Contemporary Kitchens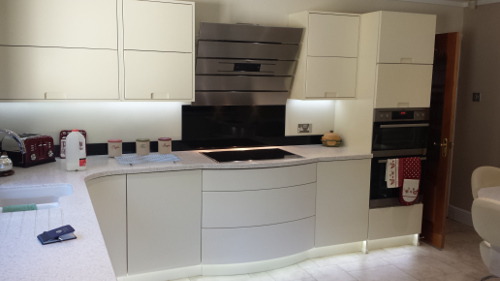 Bespoke Contemporary Kitchens
Clean lines and minimal embellishment are the hallmarks of the softer, more transitional contemporary style with the disappearance of handles, and some gadgets hidden behind doors, to create a seamless uncluttered look.
In this photograph you will see we have used a concave door to the corner unit and convex pan drawers coupled with shaped worktops to create flowing lines which are very easy on the eye.
Self-opening drawer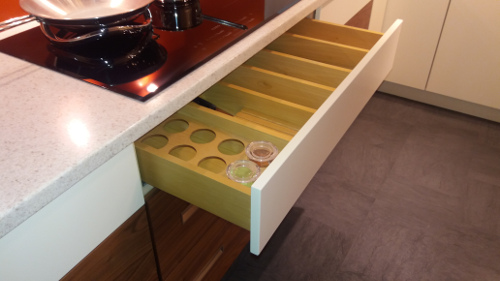 Self-opening drawer
This full width solid wooden drawer unit is set on box metal runners.
There's no need to fumble around in a cutlery drawer for an item, you can keep everything in its rightful place.
The drawer can be divided to help organise your utensils in any combination of cutlery tray to utility section, all are made to your individual requirements.
Safely store knives and keep spices and herbs away from direct sunlight in wooden spice holder inserts.
Contemporary Doors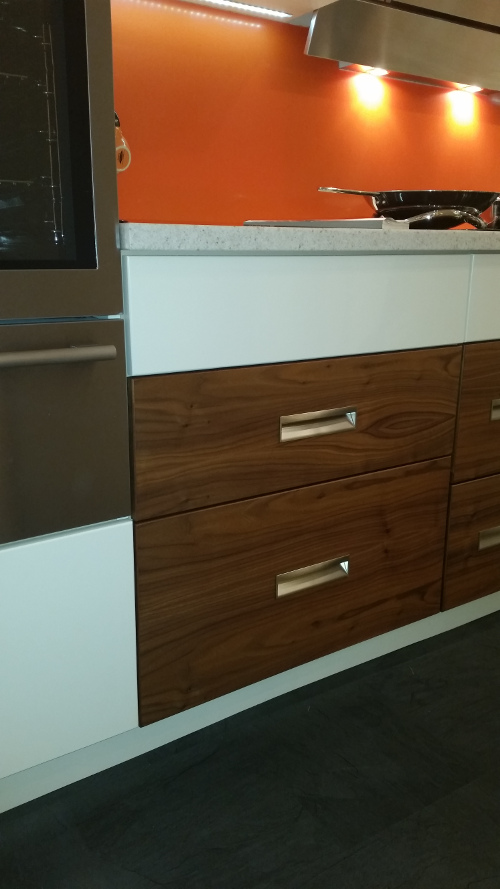 Contemporary Doors
This display features a combination of spray-painted handleless self-opening doors and drawers alongside walnut drawer fronts with recessed handles.
Of course, as with all our kitchens, the choice and combination is entirely to your liking.
Utilise any species of timber and vibrant pallet of paint colours and handles, to bring your kitchen into the 21st Century.
To see more photos please click Contemporary Kitchen Gallery
Please click Showroom Gallery for a taster of what to expect from your visit to Cumbria Kitchen & Bedroom Furniture.