Shaker Kitchens From Cumbria Kitchen & Bedroom Furniture
The Shaker kitchen has been by far the most popular style that we have manufactured.
Bespoke Shaker Kitchens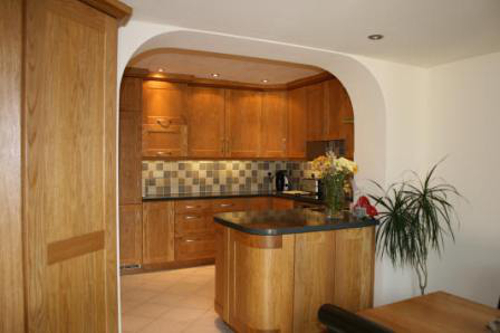 Bespoke Shaker Kitchens
The classic door style offers a distinctly timeless look, shown here in an American Oak which perfectly suits a modern or traditional family home by simply changing the handles.
Constructed using square framed oak, it maintains the highest level of quality. Topped off with Staron solid surface worktops fabricated in our very own workshops, makes the design possibilities endless.
Adding to our handmade feel are beautiful curved doors softening the overall effect. By choosing from our vast wealth of woods including, Oak, Pippy Oak, Maple, Ash, Tulip wood, Sweet Chestnut, European Oak and much more alongside a huge colour pallet, you can create your very own distinctive and highly individual look.
Shaker Door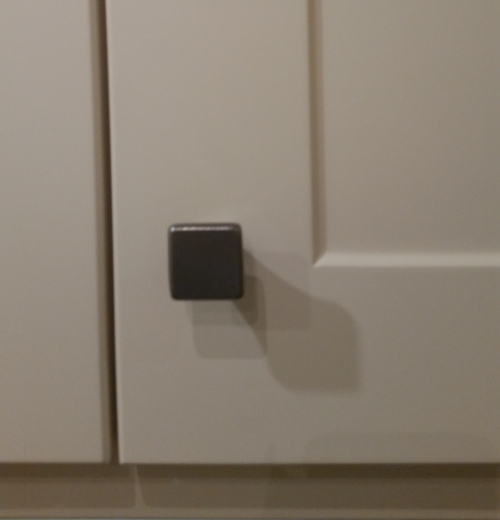 Shaker Door (circa 1747 to 1900)
The Shakers believed that every object in the home should have a function and that decoration was unnecessary.
Their beliefs were reflected in well-made furniture of minimalist designs.
Furniture was made from Maple, Cherry or Pine woods which was generally stained or painted with one of the colours which were dictated by sect, typically Red, Blue, Green or Yellow.
Drawer handles for dressers and other furniture were made from wood. Nowadays, these are available from us in all species of woods and different colours.
There is no other kitchen style that has stood the test of time quite like the Shaker
Shaker Pan Drawer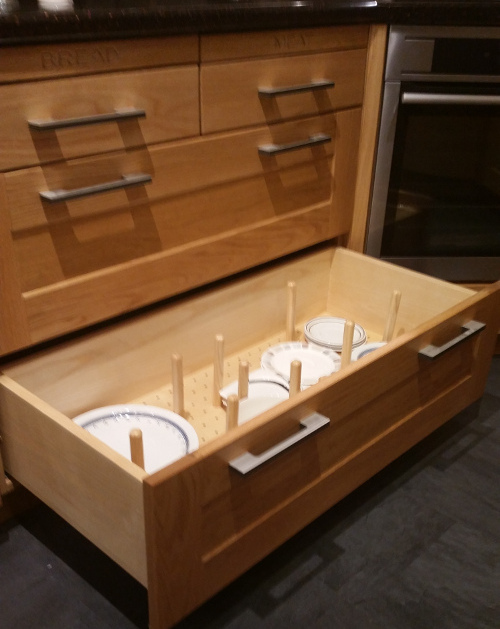 Shaker Pan Drawer
Pictured here is our pan drawer which has an optional plate stack.
The original shaker would have used waxed wooden runners. We have brought this into the 21st Century by using the grass runners (probably the best runners on the market) which can carry a weight of 40kg on each runner, and have a smooth but firm soft closing action.
Unusually the runners also have a full extension capability allowing for easy access to the rear of the drawer.
The drawer boxes themselves are constructed from solid timber or real wood veneers.
To see more photos please click Shaker Kitchen Gallery
Please click Showroom Gallery for a taster of what to expect from your visit to Cumbria Kitchen & Bedroom Furniture.