Framed Kitchens From Cumbria Kitchen & Bedroom Furniture
Framed kitchens are inspired by time honoured cabinet making principals.
Bespoke Framed Kitchens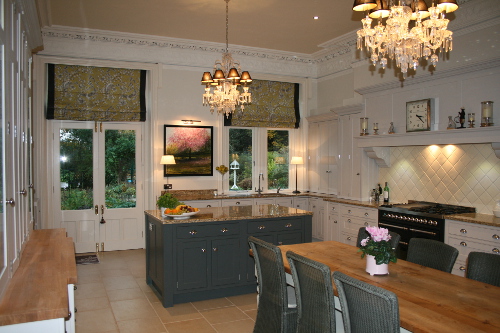 Bespoke Framed Kitchens
Drawing from bygone influences like Georgian, Edwardian, Farmhouse and Victorian.
Our Classic in-frame kitchen, shown here in Farrow & Ball Elephants Breath Paint with brushed steel butt hinges and bright chrome cup handles and knobs, offers a timeless look.
Adding to our handmade feel are soft corners, smoothing the overall effect.
By choosing from our vast wealth of woods including European Oak, American Oak, Pippy Oak, Tulip Wood, Ash, Maple and our never-ending colour palette you can create your very own distinctive and highly individual look.
Framed Chef's Pantry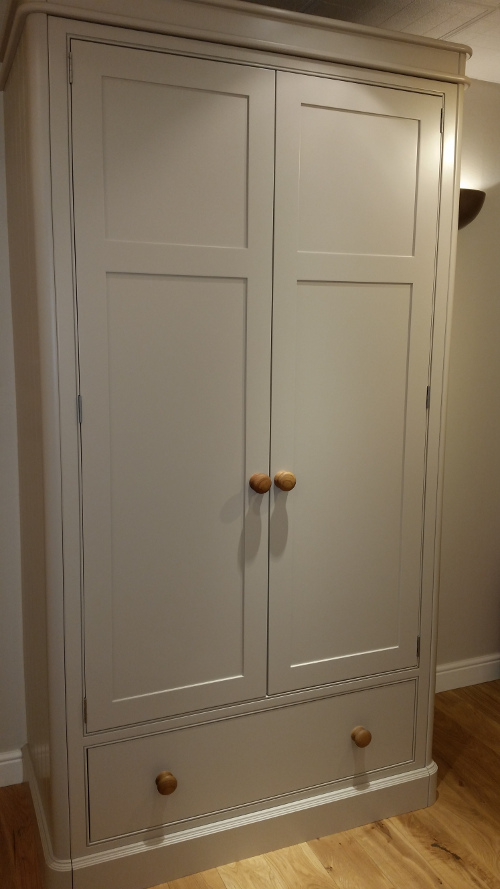 Framed Chef's Pantry
With its classically simple lines and timeless feel our Chef's Pantry offers unrivalled storage space, shaped adjustable shelves, spice racks, a beautiful hand crafted pull out wine drawer.
A deep bottom storage drawer is a must in any cook's kitchen.
The softened corners with double V grooved end panels and Edwardian cornice adds to its overall ageless look.
Of course, as with all our handmade furniture, the actual design choice is your own.
All our internal layouts can be altered to suit your individual needs, this can include bread and cake's drawer or internal chopping boards.
Our aim is to design something that would be easy on the eye and that you are never going to have to change, or want to.
Framed Kitchen Door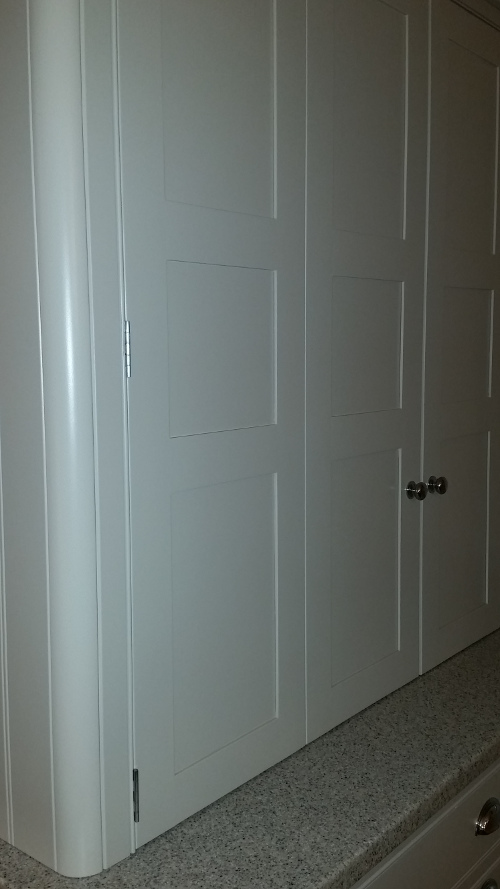 Framed Kitchen Door
This is our beautiful in-frame door with a timeless quintessentially British feel.
This hand crafted bespoke door is made from Tulip wood using a square framed door and cock bead detail, it maintains the highest level of quality.
The door is hand sprayed using any colour you desire, and this is also available in a hand painted finish or our vast range of timbers.
Our doors and frames are constructed using traditional methods, joints are Mortice and Tenon, we use only hardwood dowels which are glued and sash clamped.
To see more photos please click Framed Kitchen Gallery
Please click Showroom Gallery for a taster of what to expect from your visit to Cumbria Kitchen & Bedroom Furniture.