Shop Fitting From Cumbria Kitchen & Bedroom Furniture
Whatever your requirements we can design, manufacture and install all types of shop fittings.
Bespoke Shop Fitting Jopsons Jewelers Carlisle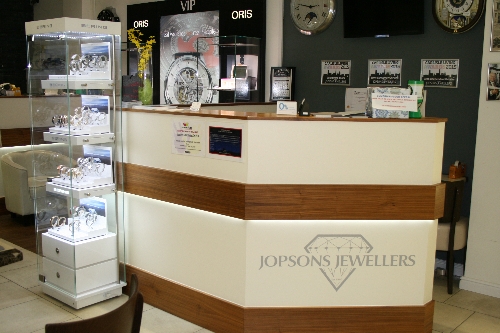 Bespoke Shop Fitting
Jewellers
Pictured here is a full shop fit we carried out for Jopsons Jewellers in Carlisle. We worked alongside the proprietors to create a design that would work for them and their clients.
Display cabinets were requested with lockable storage and glass lockable doors. This allowed the client to display all their goods safely and securely.
We also created the cube glass display units which have a removable glass top with lockable storage cupboards underneath.
A modern style reception desk was installed as well as a watchmaker's station specifically made and designed for the repair of watches.
All the furniture was created in the clients corporate colours with company logos where required.All the furniture was created in the clients corporate colours with company logos where required.
K. France Opticians Carlisle Cumbria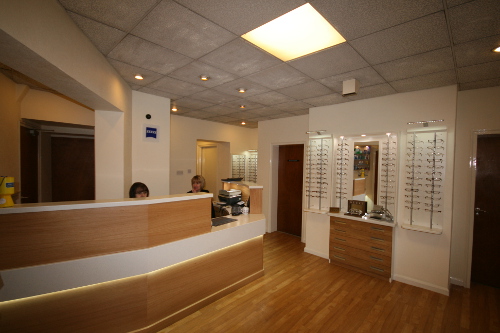 Opticians
We have been asked to carry out a few opticians refurbishments over the years including K France Opticians in Carlisle.
We were asked to design a reception area, display for glasses, consulting table and a storage unit for optical supplies.
As is normal all the furniture was handmade in our workshops, including the stands for the glasses themselves.
The LED display lighting allows all display items to be seen clearly while still being energy efficient.
A reception desk is usually the first thing a customer will see when walking into a practice, so we aim to make them inviting and clutter free but always to meet the requirements of our clients.
All of our bespoke furniture can be manufactured in any of our range of woods including European Oak, Pippy Oak, Maple, Ash, Tulipwood and Sweet Chestnut or in hand or spray painted colours or any combination of both.
Carlisle Golf Club Ladies Bathroom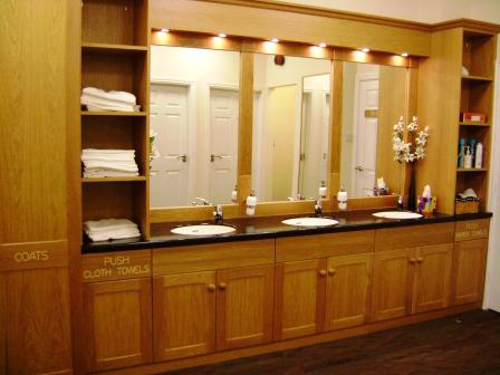 Golf Club Locker Rooms
We were asked by Carlisle Golf Club to design and manufacture new furniture for their ladies locker rooms.
The brief included member's lockers, coin operated visitor lockers, a dressing area for the ladies with mirrors, popup power points and hair dryers for freshening up after a game.
Also a full design for the ladies bathroom area including hand basins, toilets and walk in showers.
The lockers were manufactured using oak.
The seating was made from oak framing and were inlayed with carpet matching the floor.
The bathroom area also in oak has large mirrors with LED lighting, shelving for storing clean towels, storage bins for used paper and cloth towels cloth towels as well as a cloak cupboard.
To see more photos please click Shop Fitting Gallery
Please click Showroom Gallery for a taster of what to expect from your visit to Cumbria Kitchen & Bedroom Furniture.