Cumbria Kitchen Furniture Customer thank you letters
Just a few of the many thank you cards we have received. All the originals are on display in our Carlisle Cumbria Showroom.
Just to say a big thank you to everyone for my lovely new kitchen. Now everybody wants one.
Thank you to Stuart for designing our dream kitchen. And to the friendly, helpful fitters for whom nothing was too much trouble. We are delighted with the finished kitchen.
Many thanks for the wonderfully designed and fitted kitchen. It is now a room we are truly proud of and we will certainly recommend you.
Please can I say a big thank you, especially to Stuart for all his help, for our wonderful kitchen, we are absolutely thrilled with it.
Words cannot express our gratitude to you all for giving us the kitchen of our dreams. We love it even more since the installation was hassle free. Your fitters and sub contractors worked together and even co-ordinated with workmen we had organised. To be able to move out and return when it was all done was great! You had second-guessed us on every minor thing we noted and it was already under control. The attention to detail was superb. Thanks for your patience at the outset Stuart in helping us design something special that met our price aspirations. All who work in the company are a credit. Thanks so much.
With many thanks for a well fitted kitchen and also for doing those little jobs gladly.
The kitchen exceeds our expectations - we love it. Best wishes
We have been in the house a week now, and we are very much enjoying using it. In fact it was the visual impact of the kitchen that gave us cheer when we were moving in last Wednesday, and continues to do so. It is just as we envisaged, and everyone who visits remarks on how lovely it is.
May I thank your staff for the speed and efficiency with which it was carried out.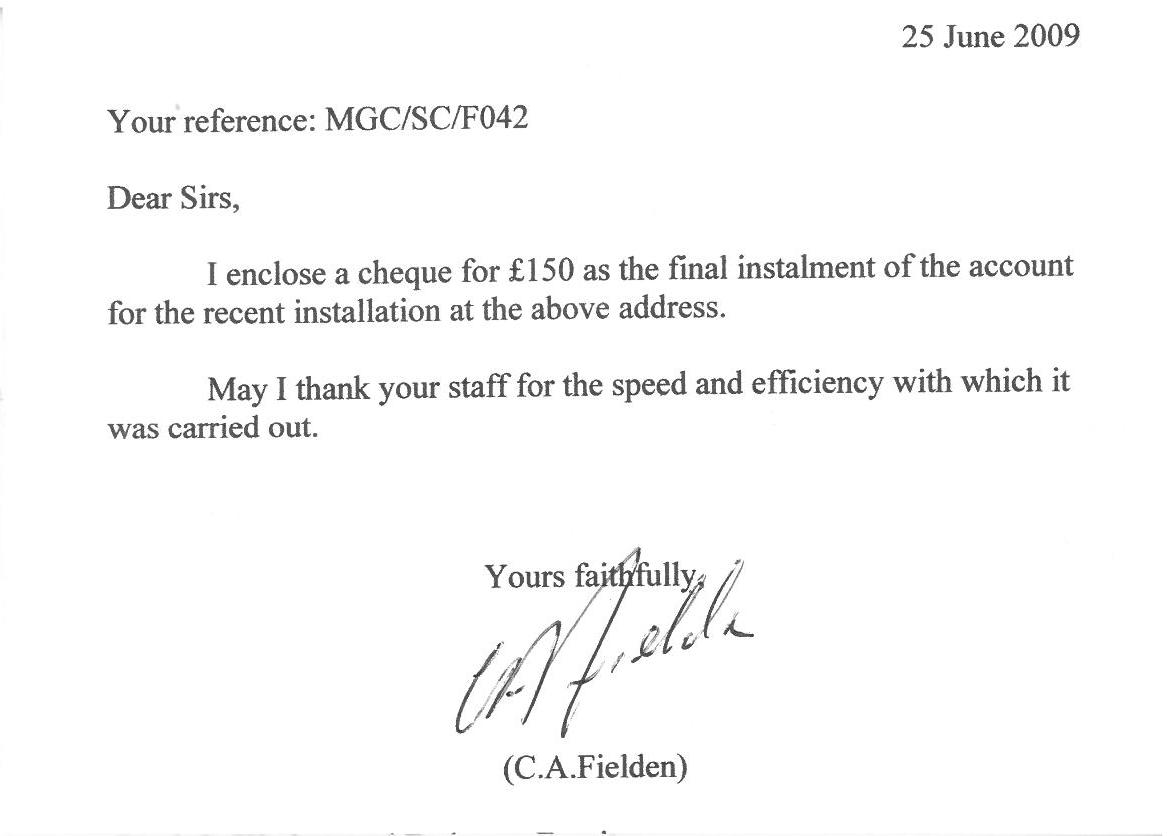 Thanks for such a smooth operation for our lovely new kitchen. Please pass on our thanks to the rest of your great team for a job well done.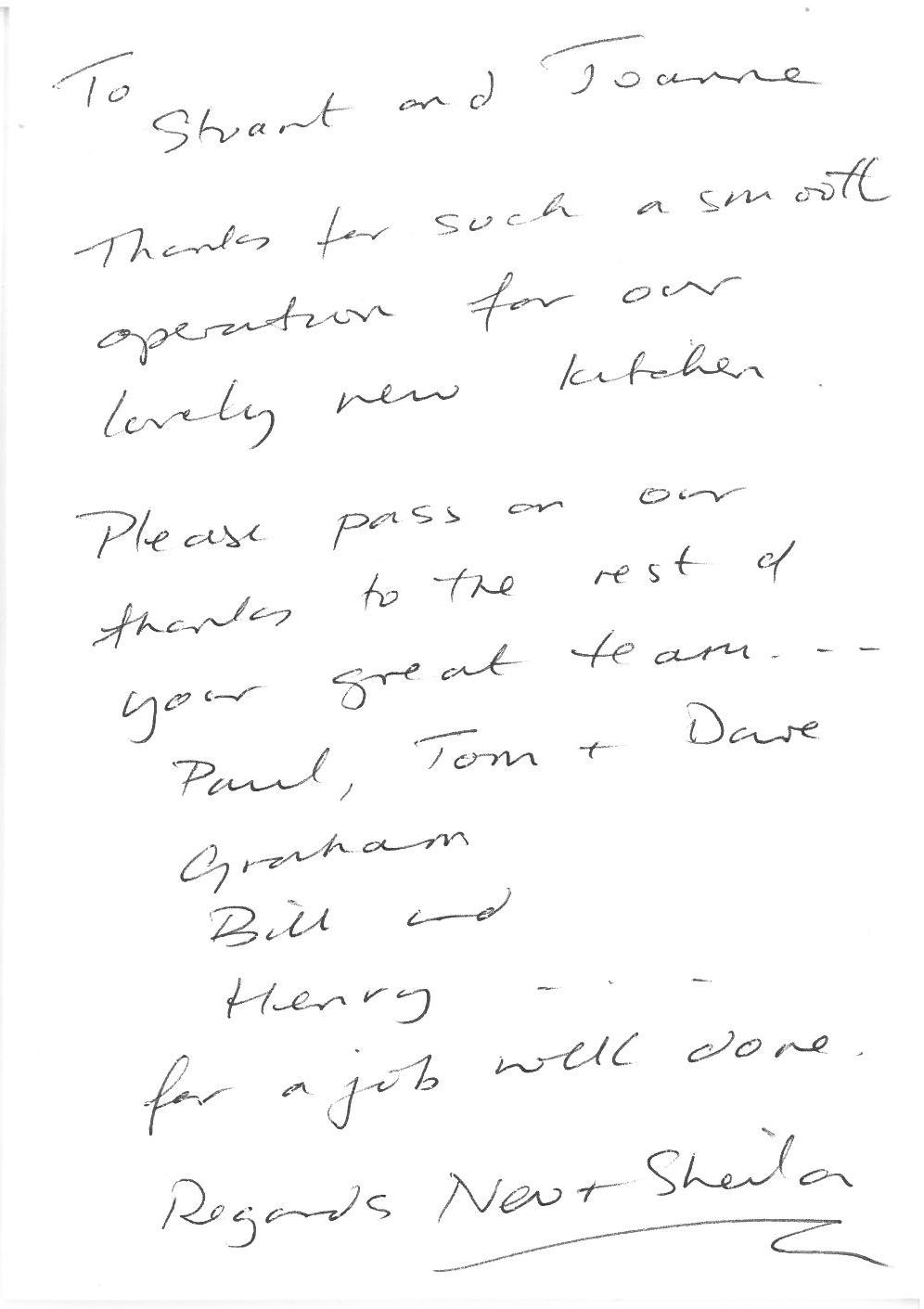 Just a note to say thank you for all your hard work in the installation of our new kitchen, bathroom & bedroom furniture. We are delighted with the end result & the work was carried out in a very efficient manner. We will have no hesitation in recommending your services to others.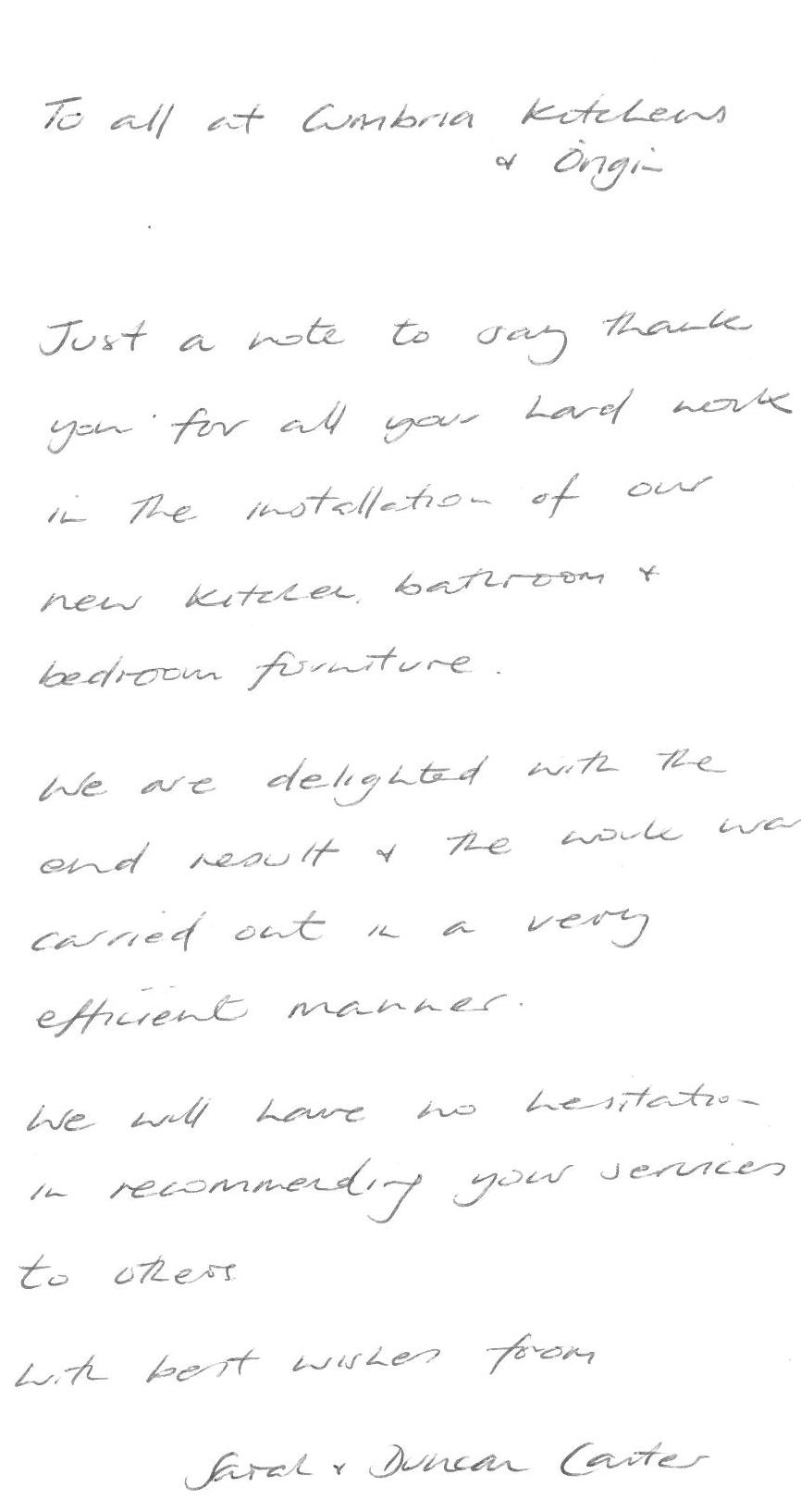 Just a short note to thank you for our wonderful new maple kitchen. We are thrilled with the end product and with the workmanship of your joiners and fitters. The fitters were professional, polite and a credit to your company.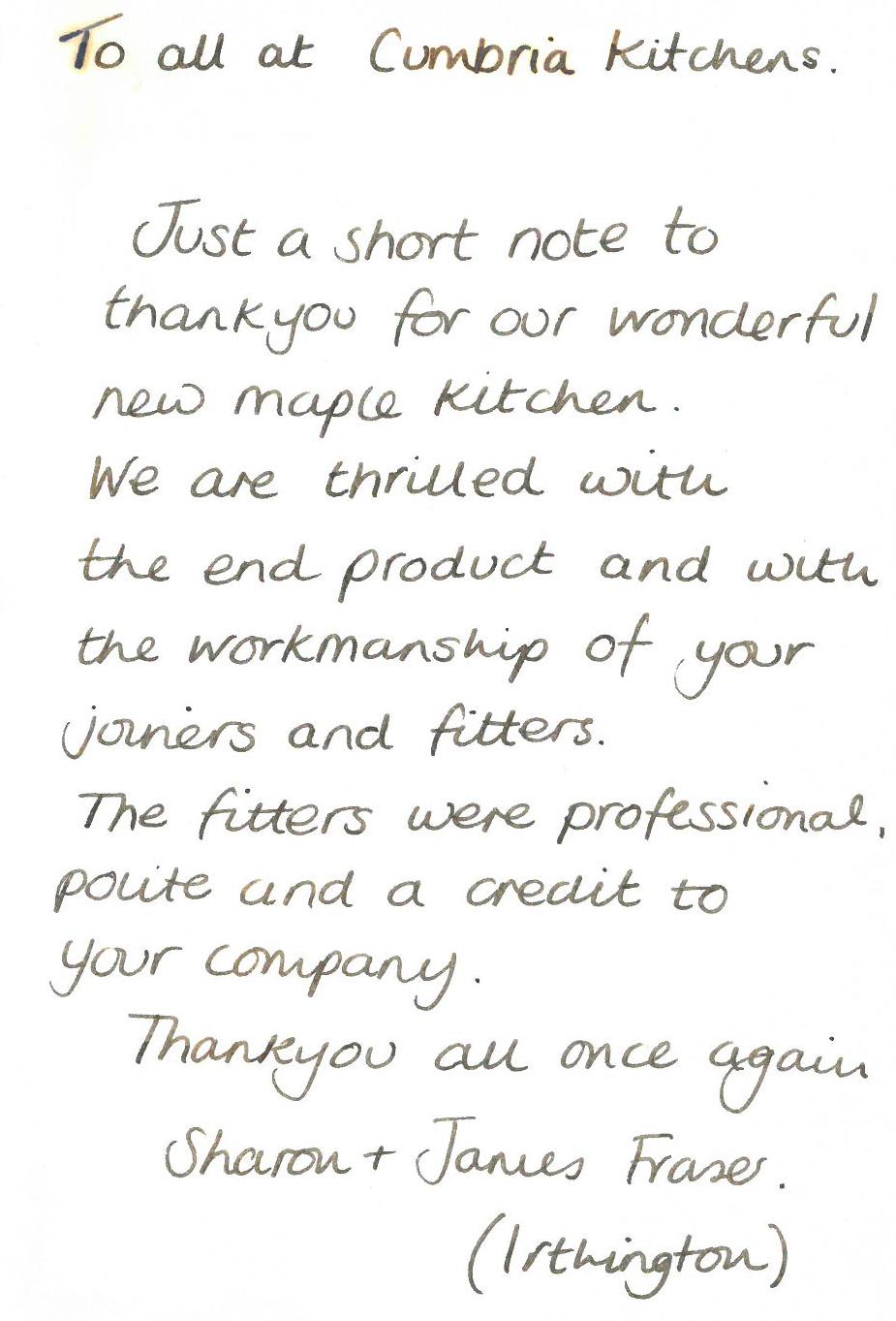 Thank you all for a brilliant job. I find myself walking into the kitchen every morning and then pinching myself, it looks brilliant, works well and I am looking forward to entertaining!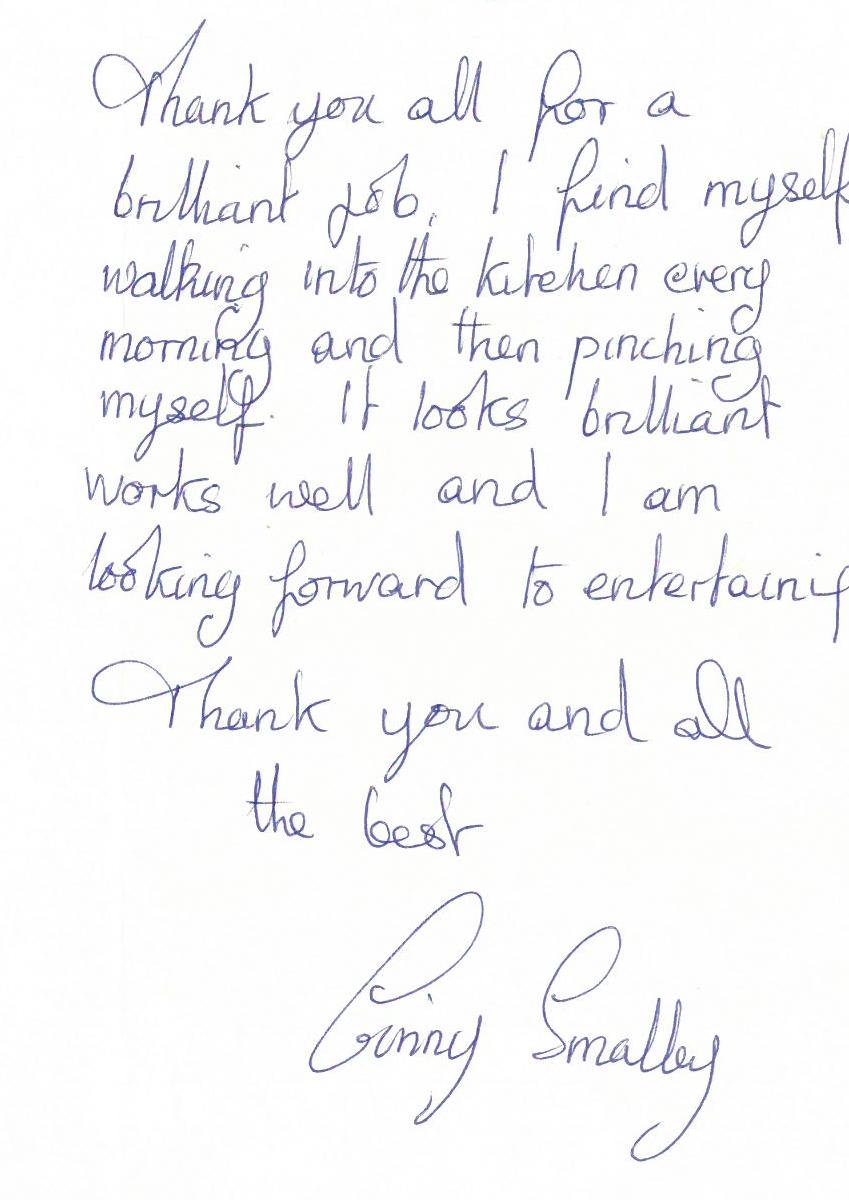 Thank you for making our unique dream kitchen.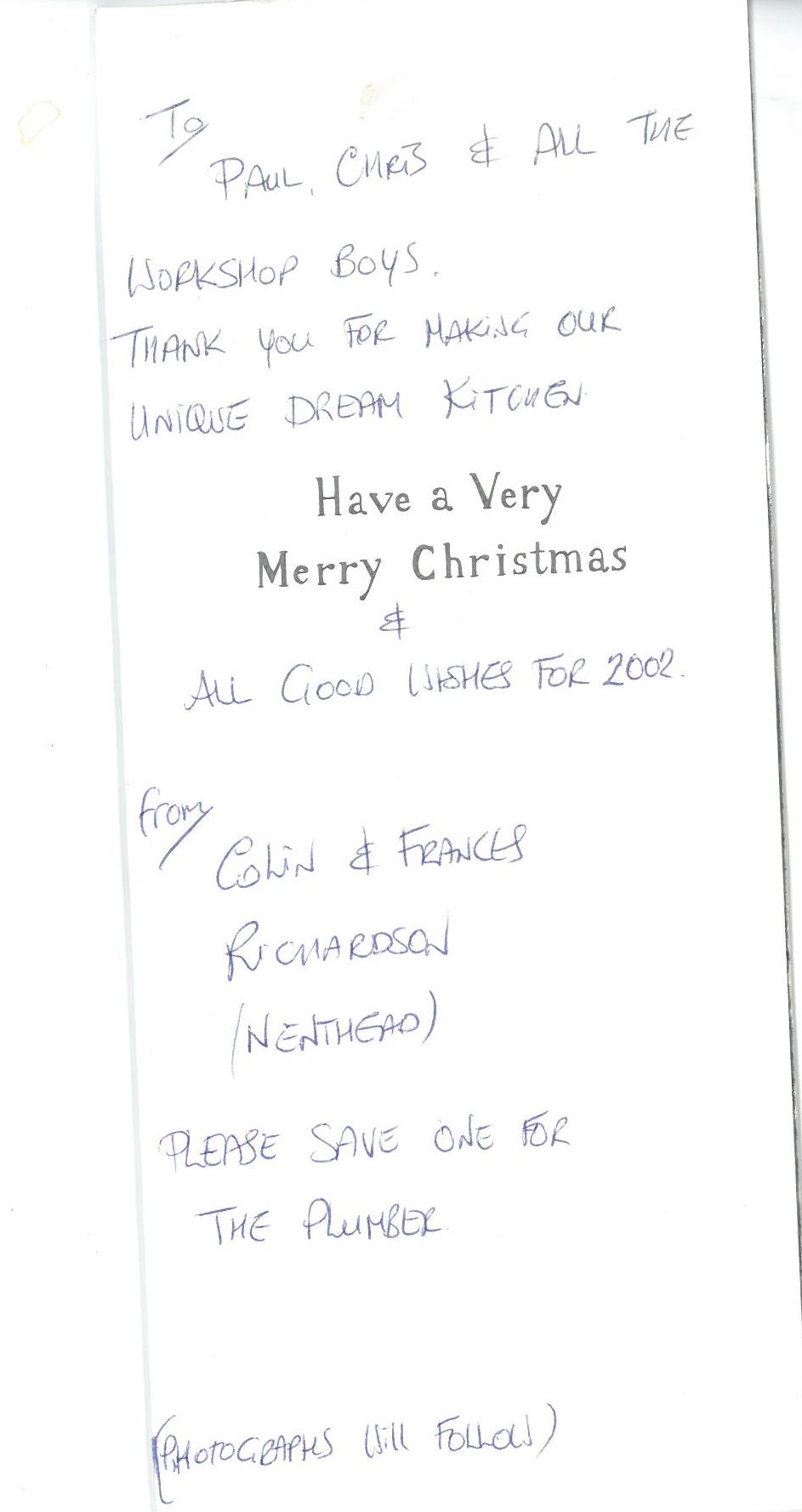 Special thanks to Stuart for designing a great kitchen and also to Paul & Chris who did an excellent job of fitting it. Everyone has been friendly and the service has been first class.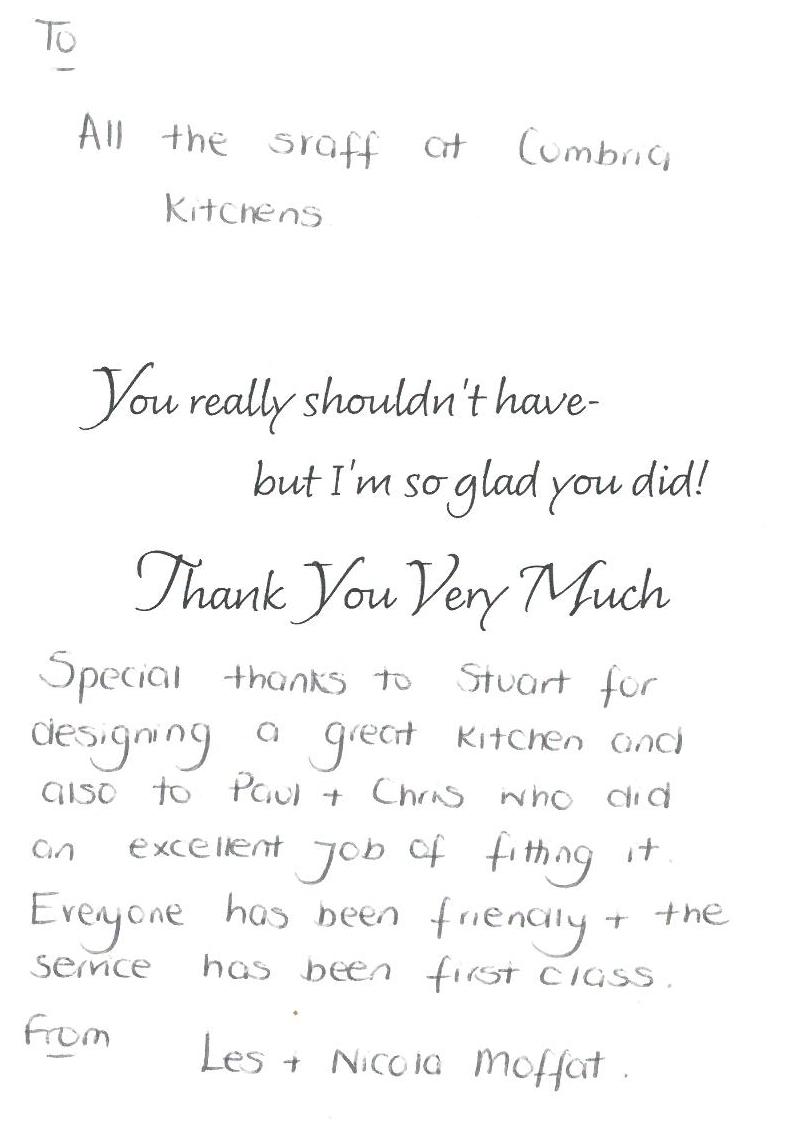 I am writing to thank you on the completion of installing the bedroom units. The customer service has been superb. We are delighted with our new look bedroom, and thank the two fitters also for the removal of the existing suite, they made it look so easy. We will have no hesitation whatsoever in recommending your firm for their craftsmanship and quiet efficiency.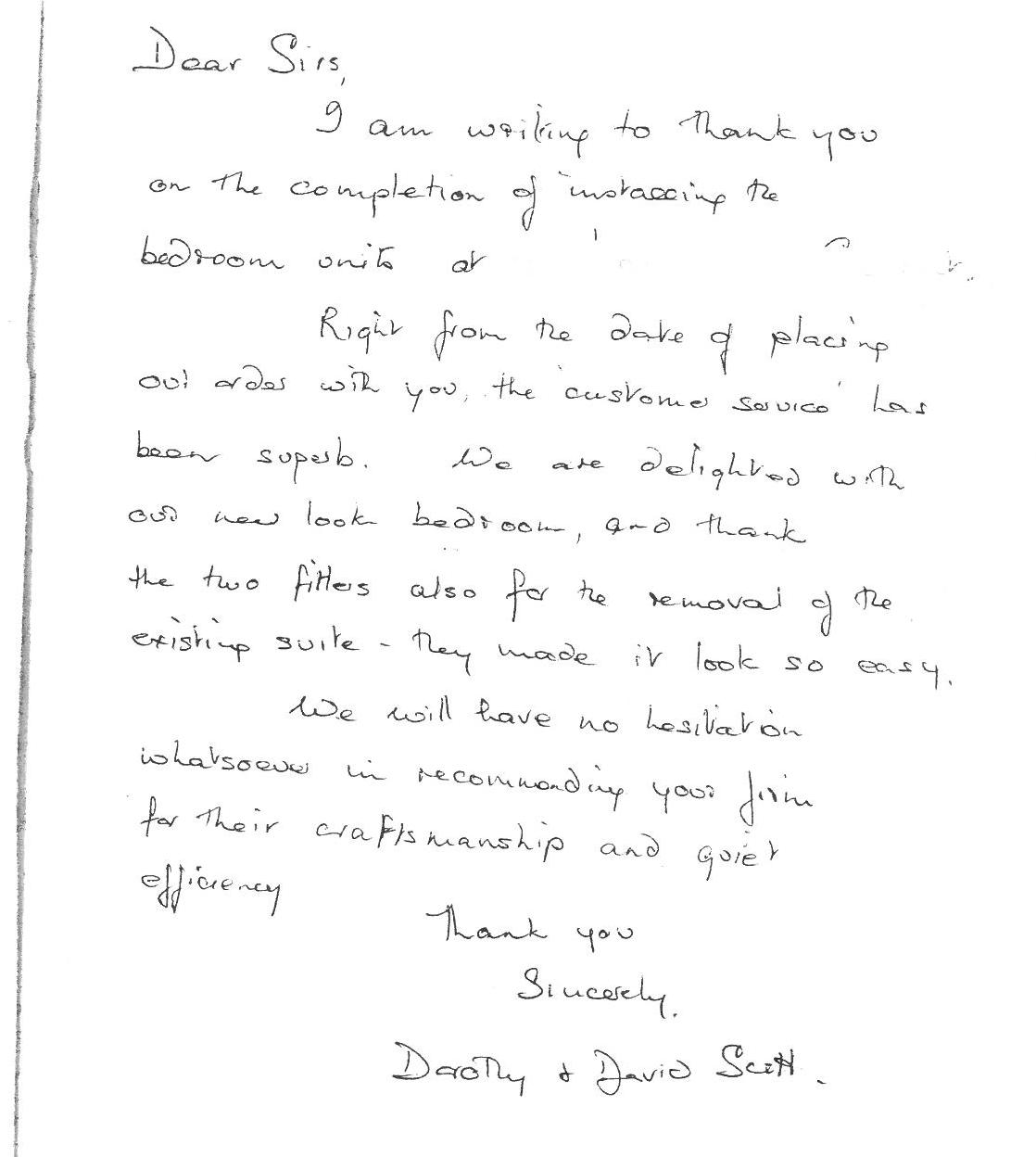 Many thanks for the delivery & installation of my Britannia cooker, it looks fantastic in the kitchen!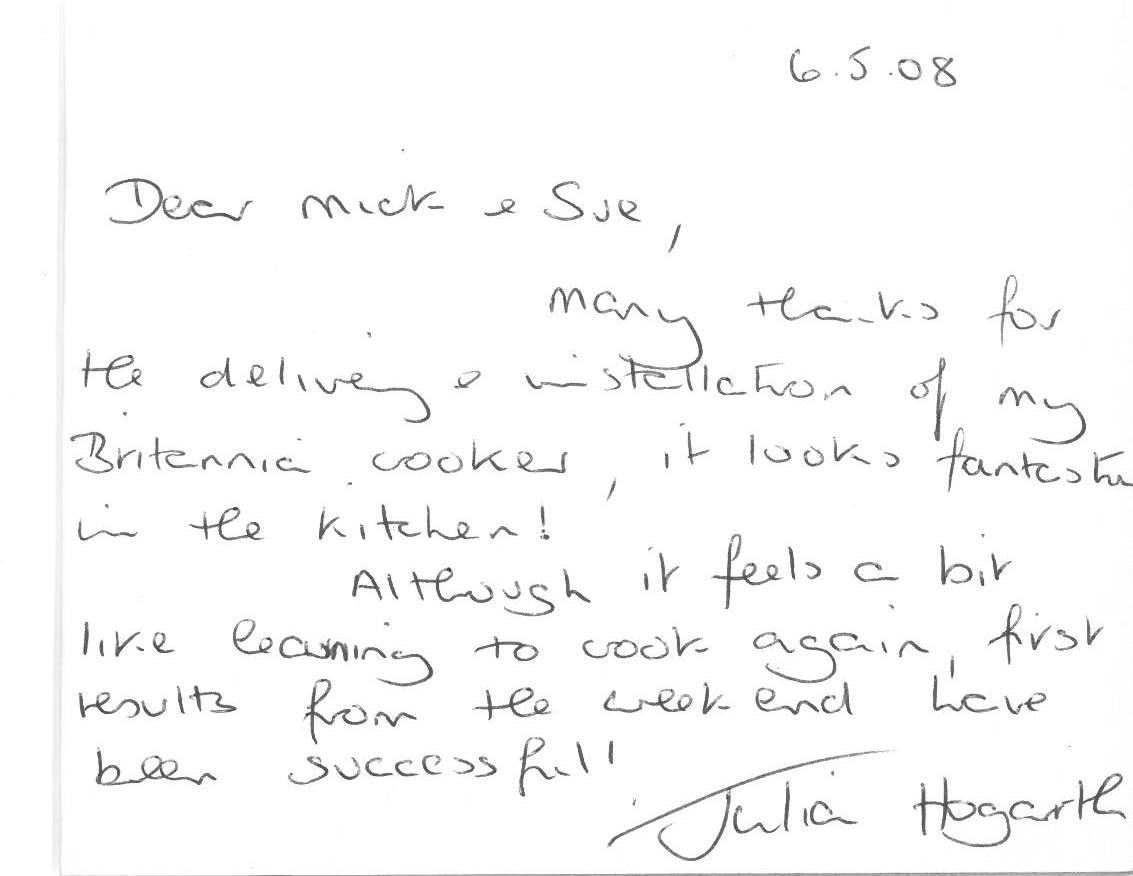 Just a little thank you for the care and attention given to our kitchen.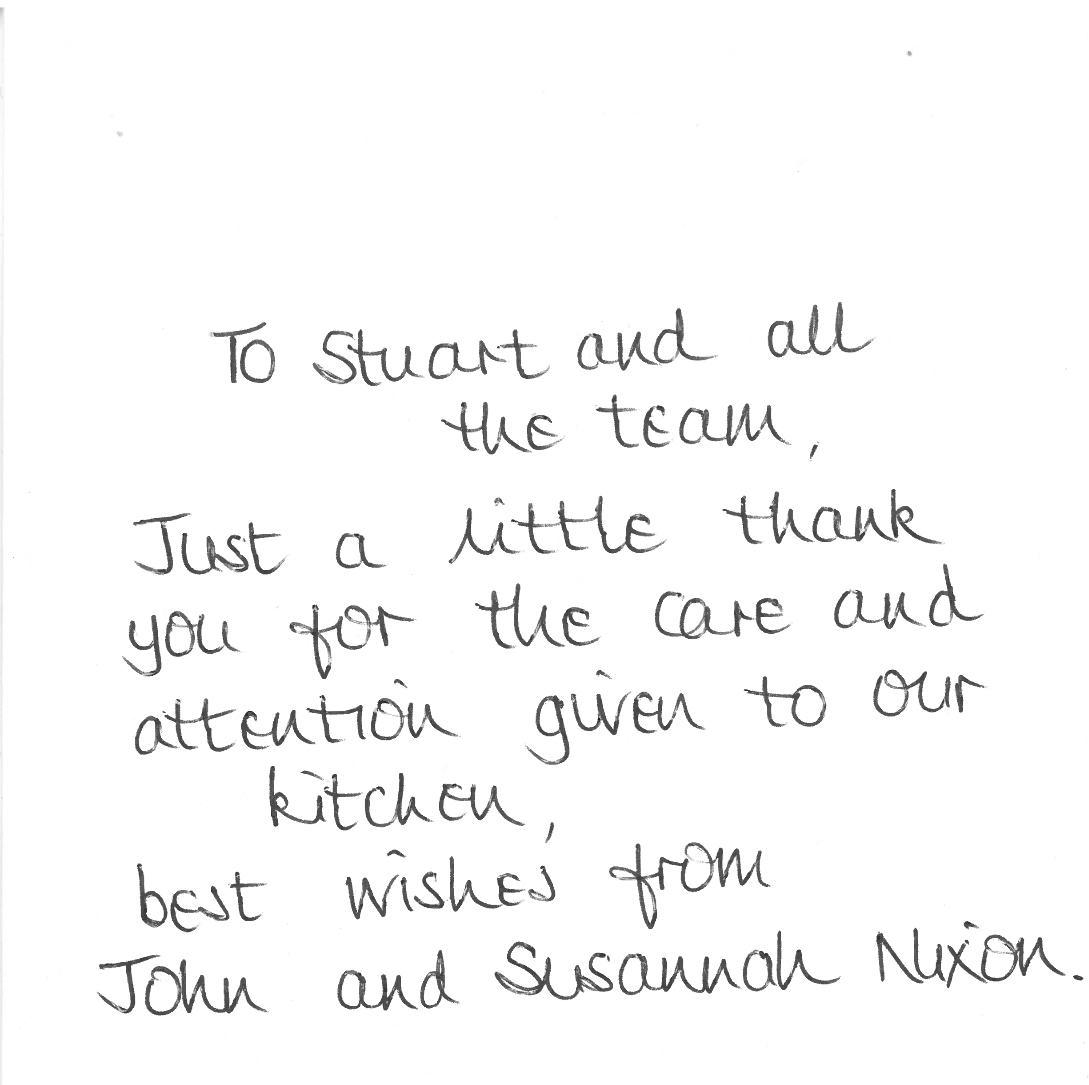 A very big thank you especially to Stuart, Paul & Chris for a fantastic job, I have my dream kitchen!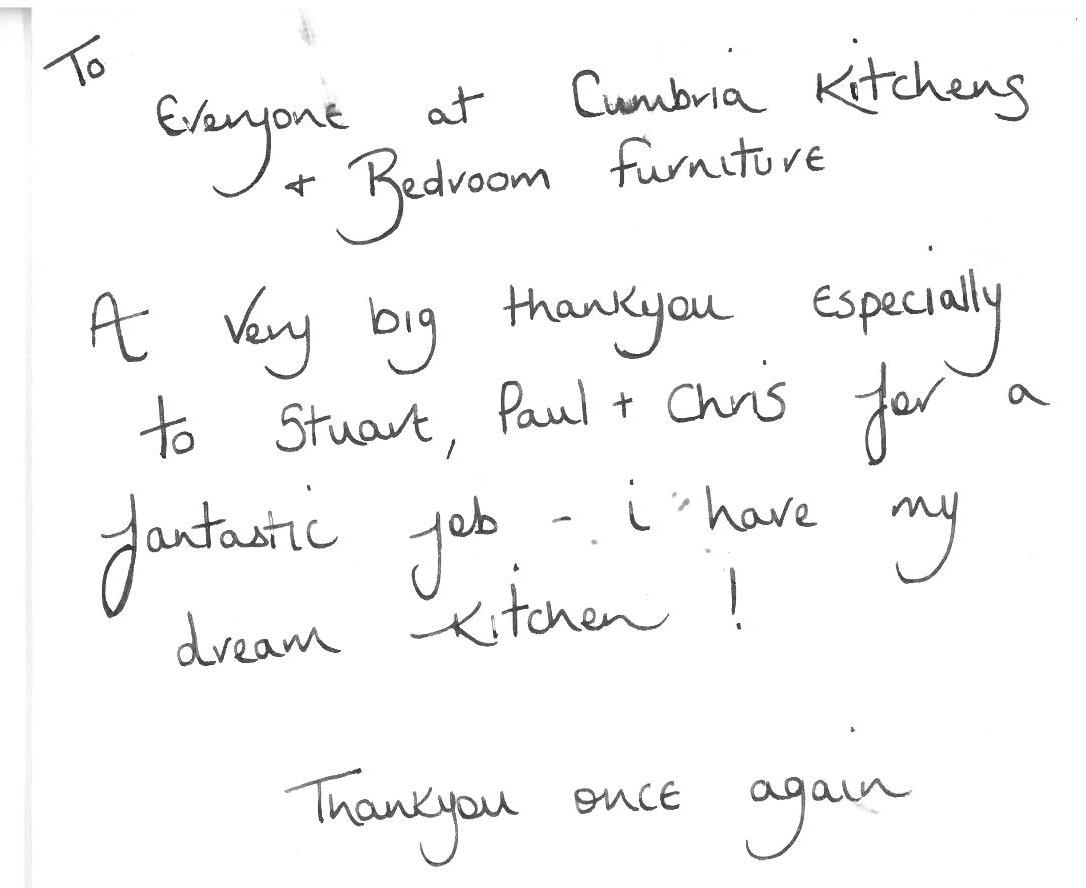 Thank you for the excellent work you did when you recently installed our new kitchen. From the day Stuart first came and did our plans to the day the work was completed we were always kept in touch on the progress of our kitchen as it was being built. Your fitters were excellent & always tidied up when they went home at night, nothing was too much trouble for them. The finished job was well up to our expectations.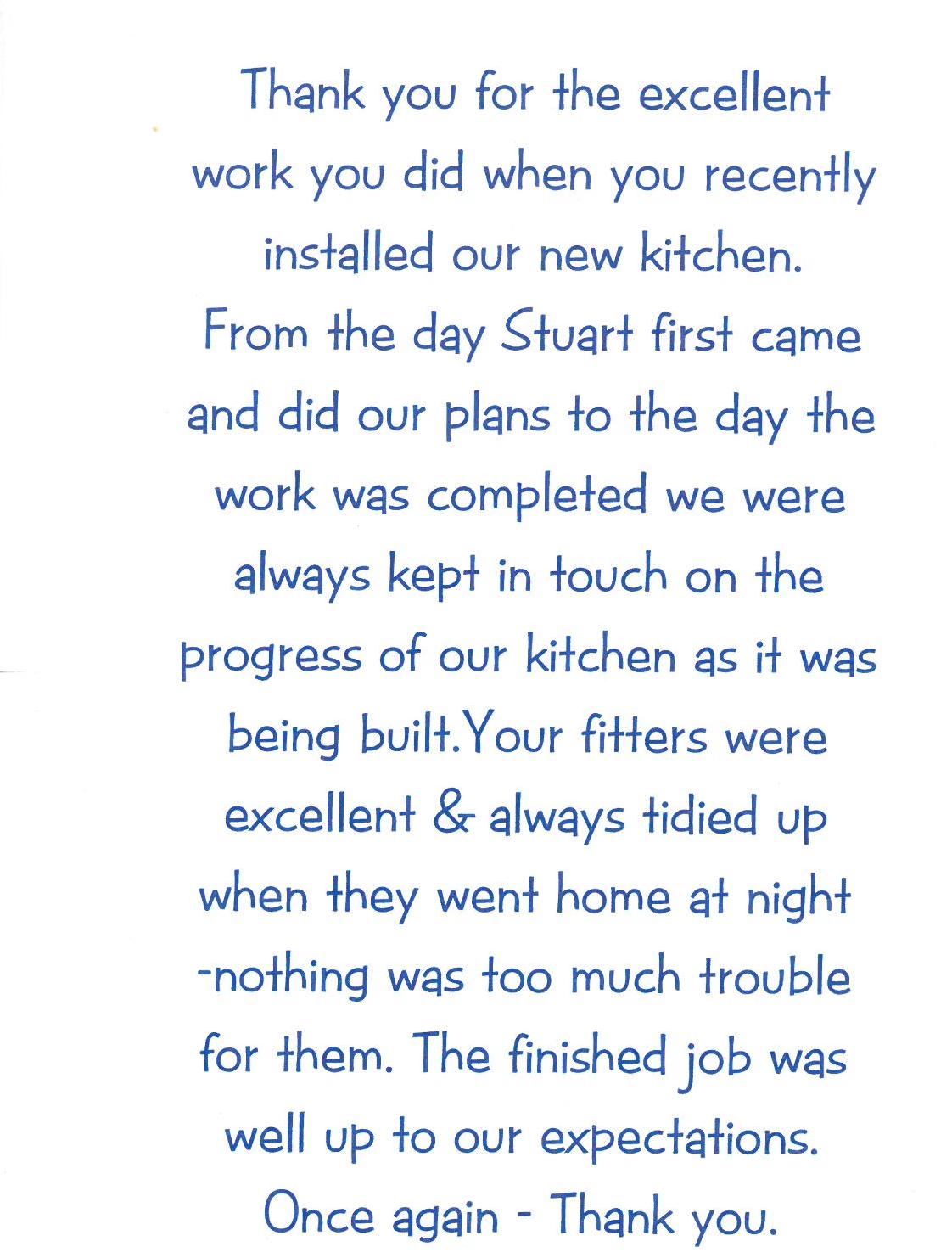 Just a note to say a big thank you for all your help in giving us a dream kitchen. Jan and I are thrilled with it and much appreciate all you did for us and especially your patience Stuart as you soon realised I could not understand plans of any sort (bit like map reading!) and you really helped me to visualise it all with your clear and simple drawings. The result was superb and of course everybody who sees it admires it, we really are "house beautiful" now.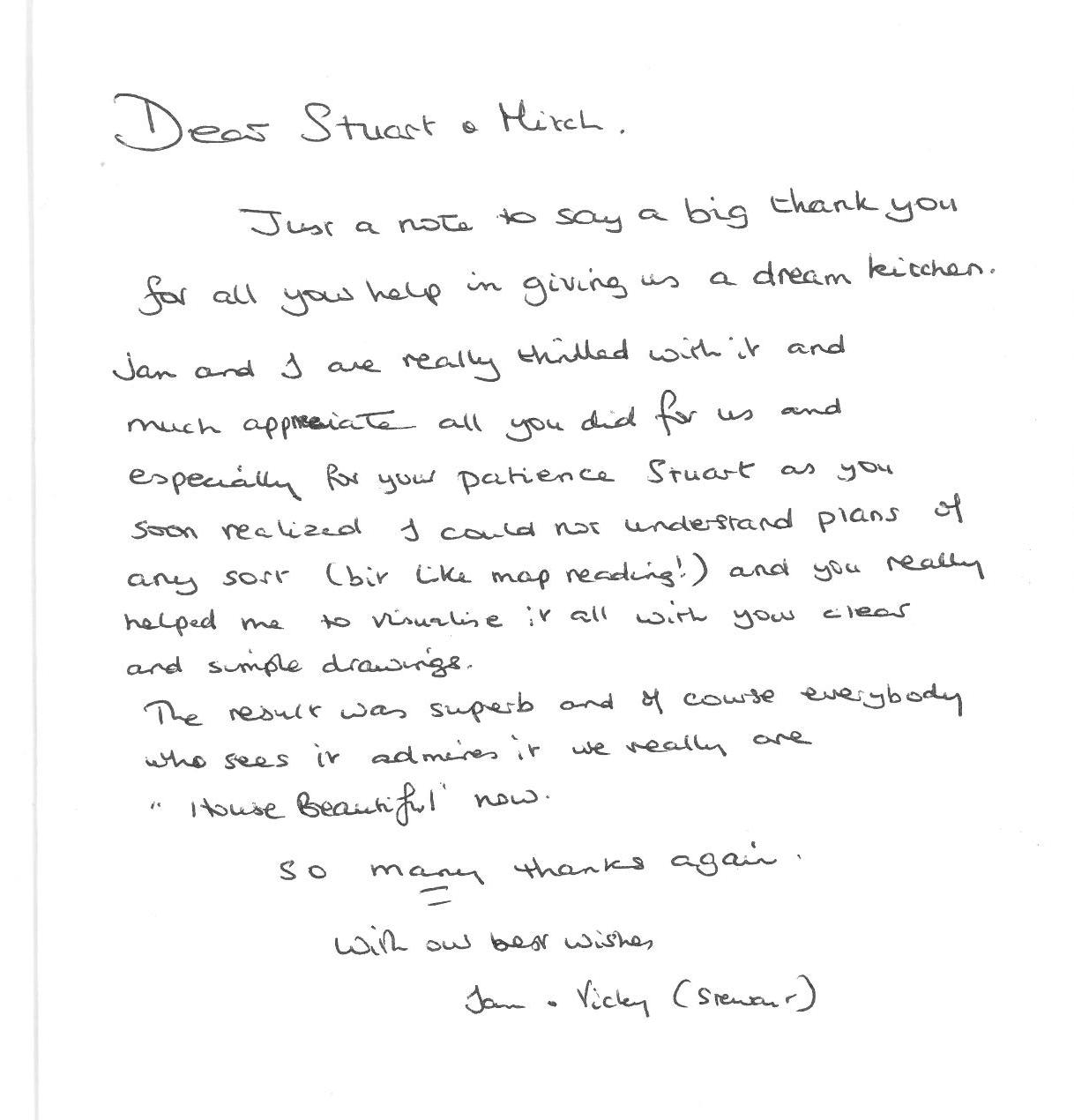 Thank you for the fabulous work you did fitting my beautiful new utility. I am thrilled to bits and I especially love my 'new' airing cupboard! Thank you.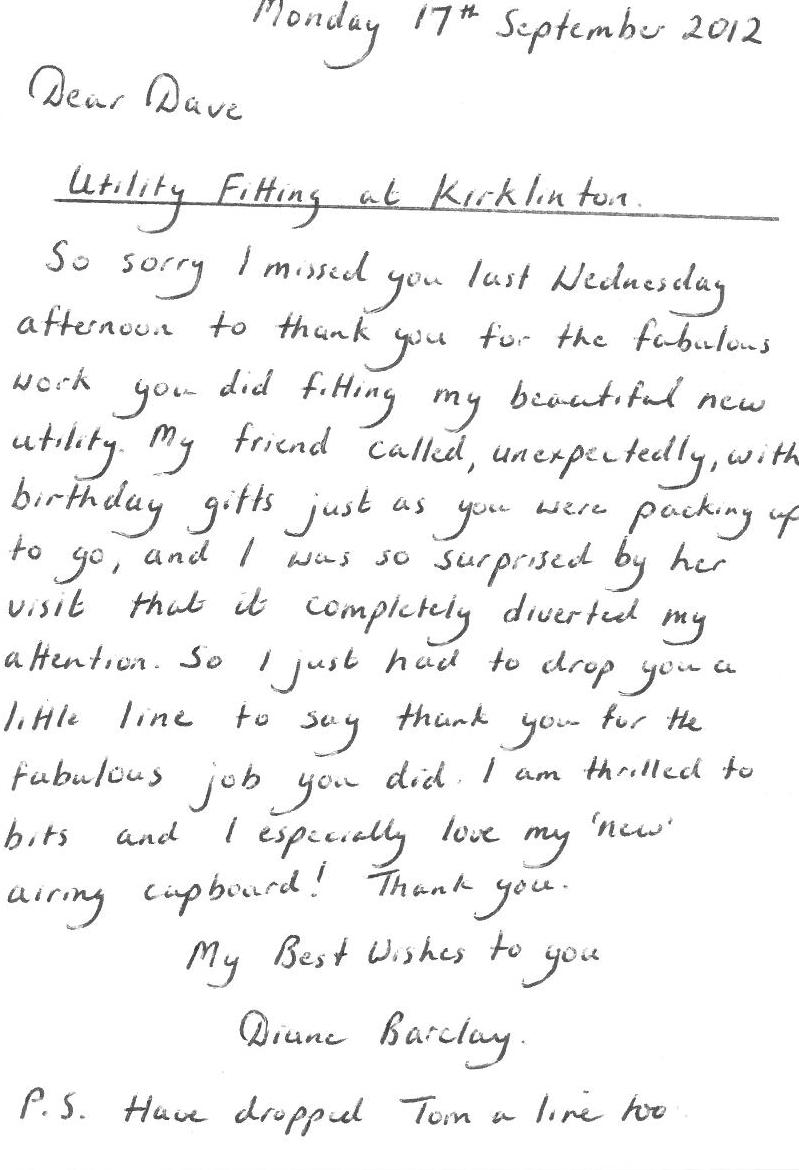 The kitchen is absolutely beautiful, thanks for all your help. Special thanks to Stuart.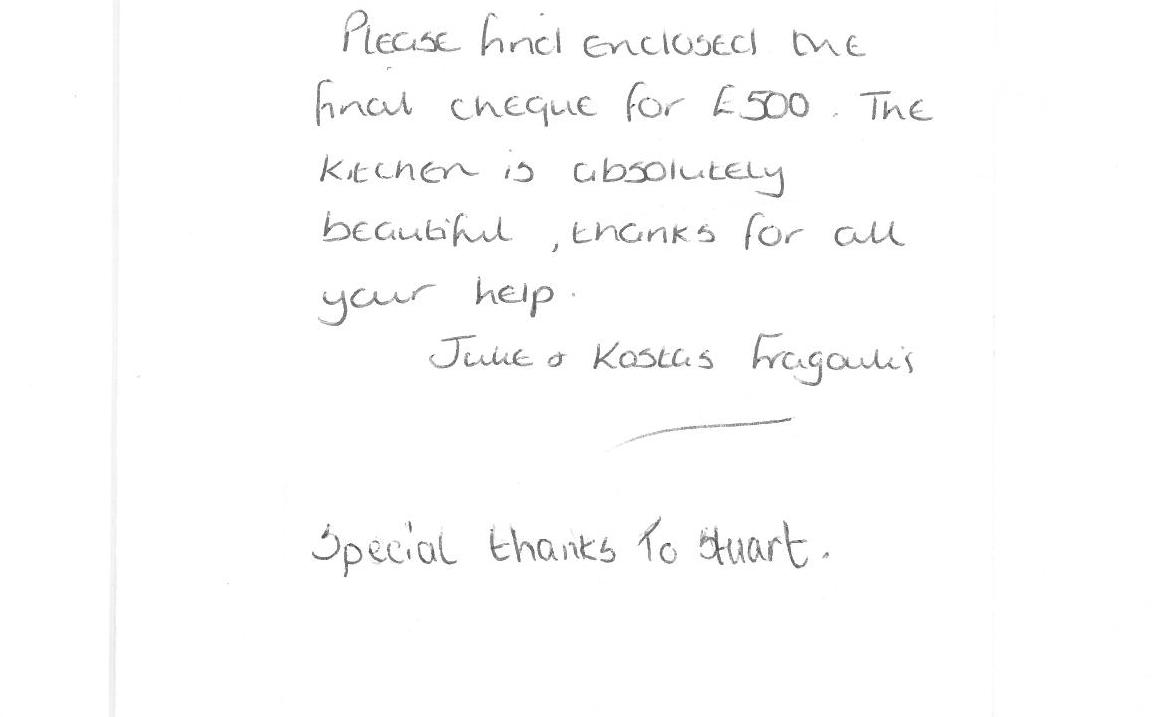 Just a little note to thank you all for the excellent workmanship that went into the making & fitting of our new kitchen. Also for all the help you gave to ourselves when we had any queries. A special mention must go to Mike for an excellent job in installing the kitchen, nothing was too much trouble for him. We are delighted with the finished kitchen & we would have no hesitation in recommending you to anyone!!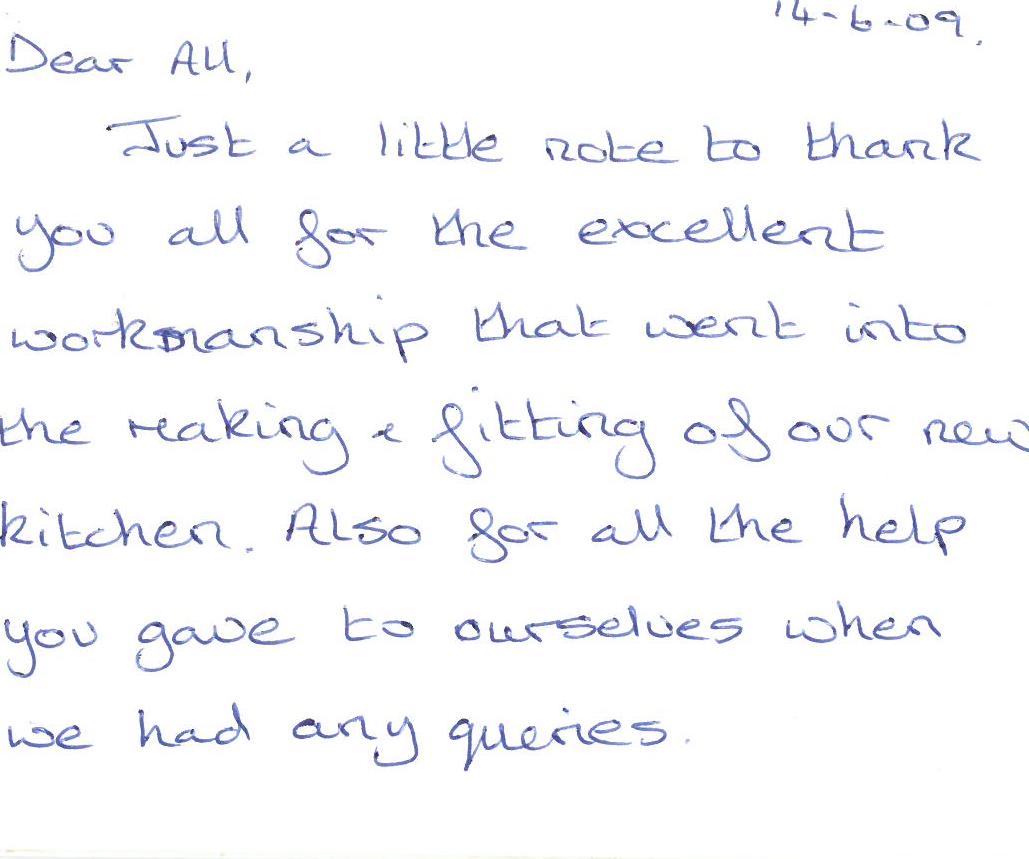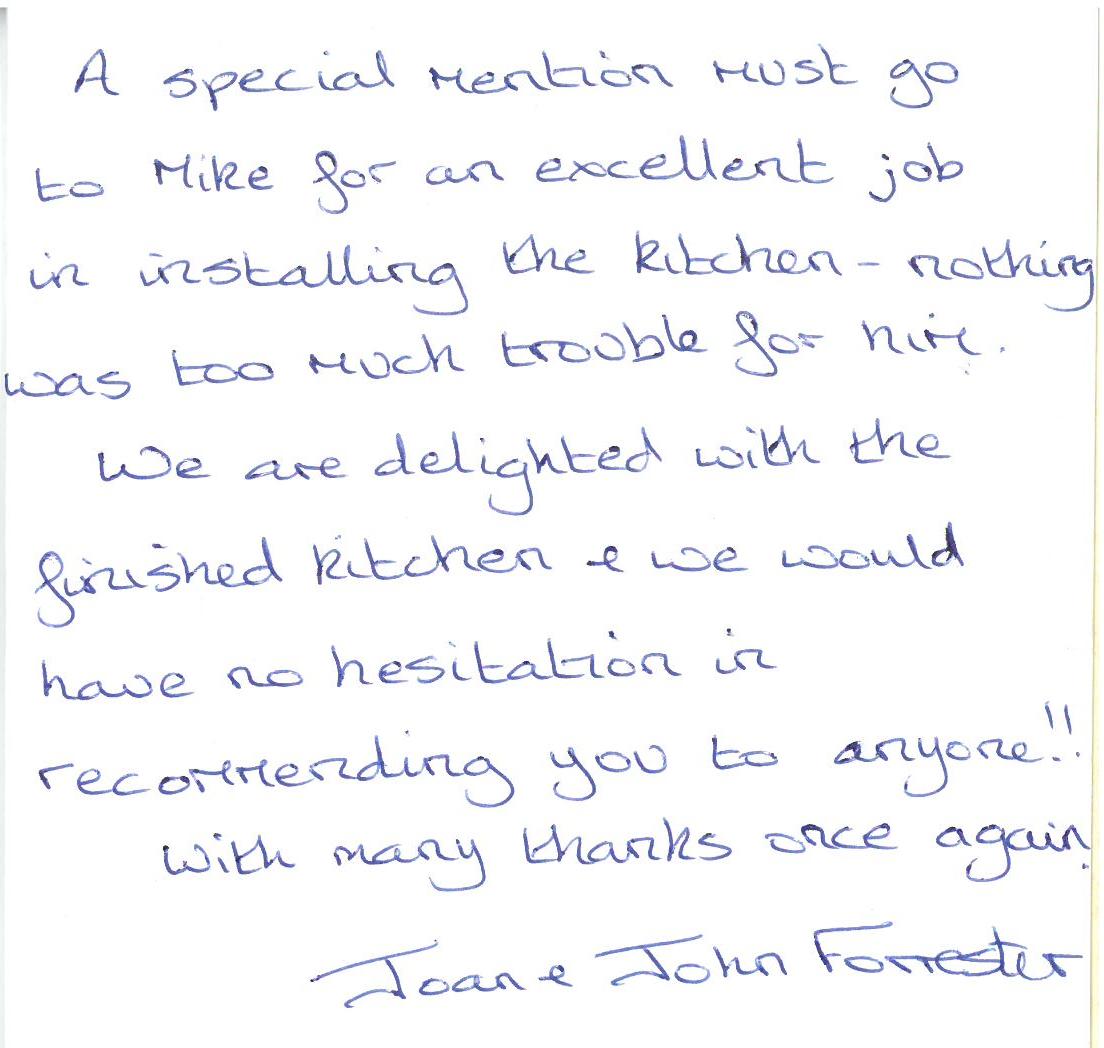 Thank you and all the team at Cumbria Kitchens for our beautiful new utility. We are absolutely thrilled to bits and can't thank you all enough. It has always been one of the most used rooms in the house and now we have our 'longed for' new utility we are proud as punch and thoroughly enjoying filling all the wonderful spacious cupboards. Our joy and excitement is all down to you and the professional team you have at Cumbria Kitchens. We have enjoyed the whole experience which we can only attribute to your company's friendly and professional service.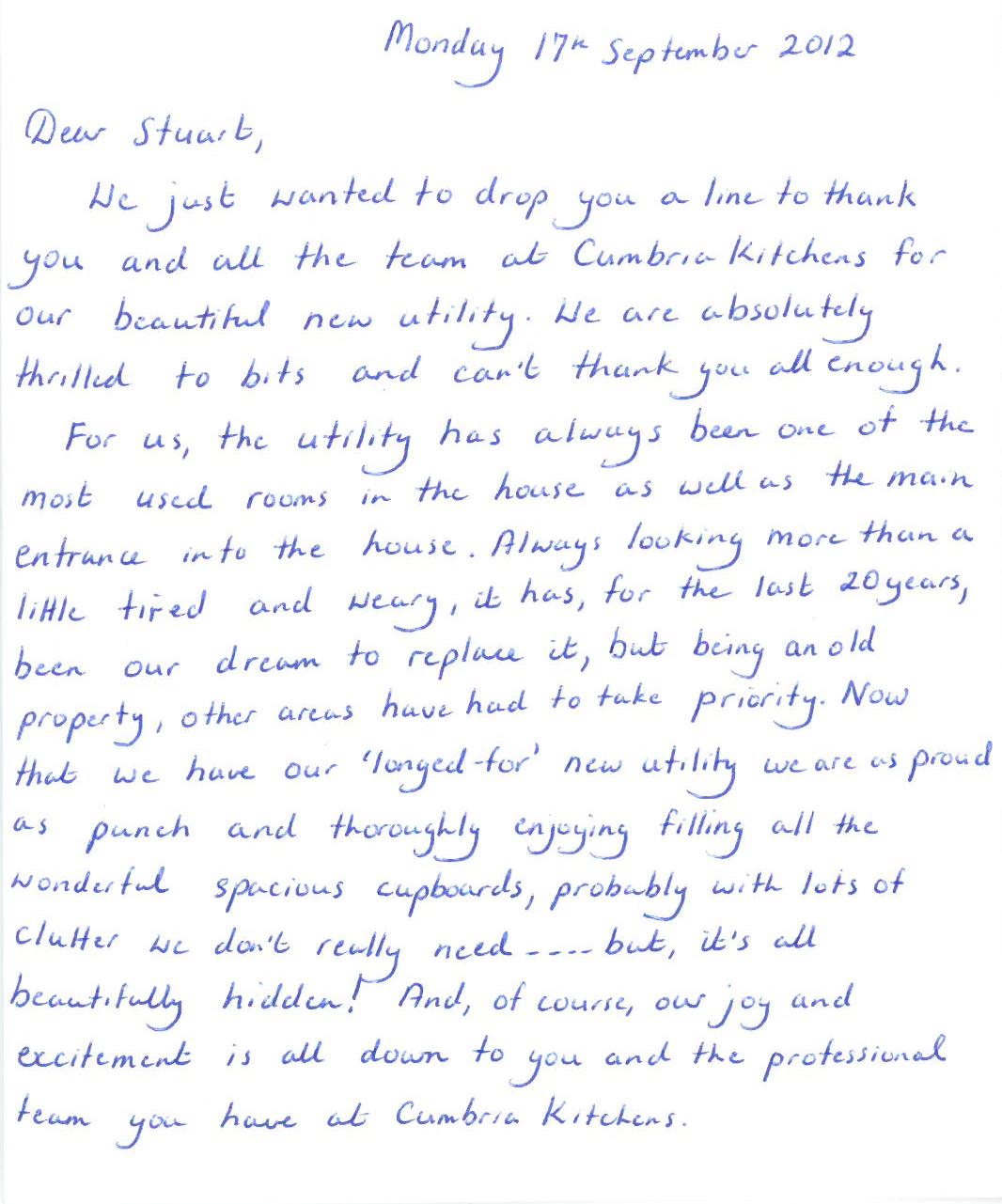 Just wanted to say a huge thank you to you for designing us such a superb kitchen, and to Cumbria Kitchens for the beautiful workmanship. We are so pleased that we chose the maple as the finish of the wood is quite as smooth as silk. All the chaps that worked on installing the kitchen were extremely pleasant and helpful at all times, we couldn't have wished for better. I can only hope that our finishing touches will match the high standard.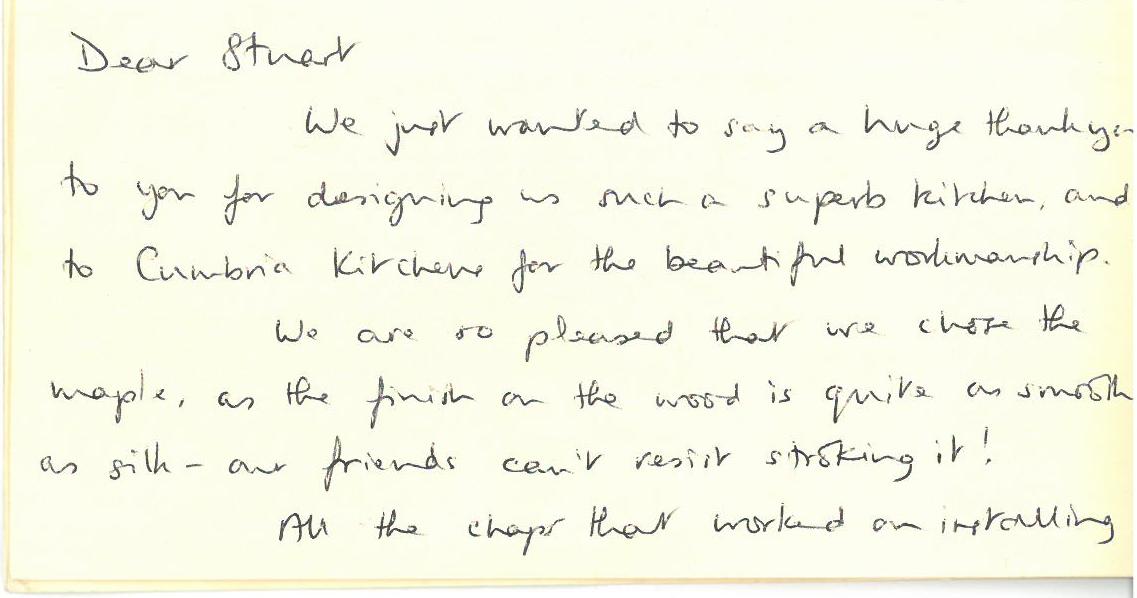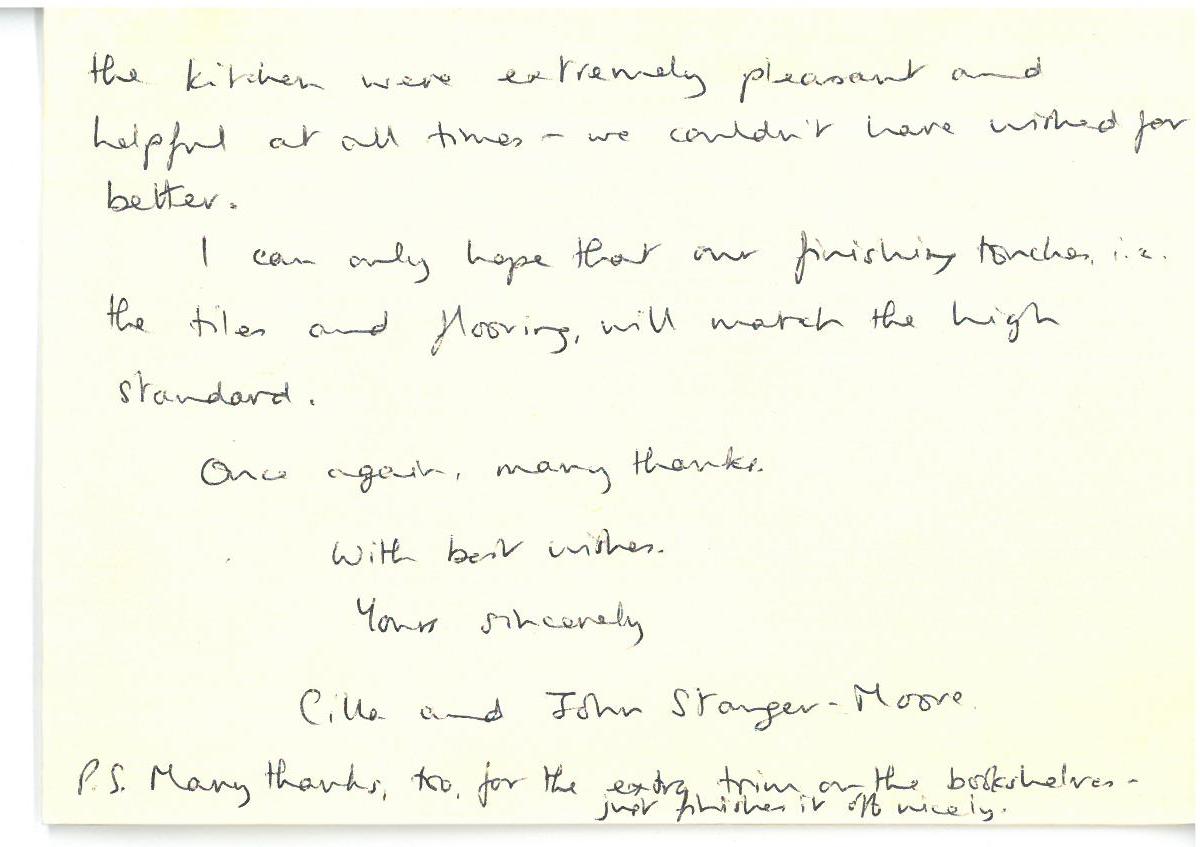 Please click Showroom Gallery for a taster of what to expect from your visit to Cumbria Kitchen & Bedroom Furniture.