Coloured Lacquer Furniture From Cumbria Kitchen & Bedroom Furniture
Our elegant bespoke kitchen and bedroom furniture is hand sprayed to order in any choice of colour from our extensive palette.
Lacquer Colour Swatch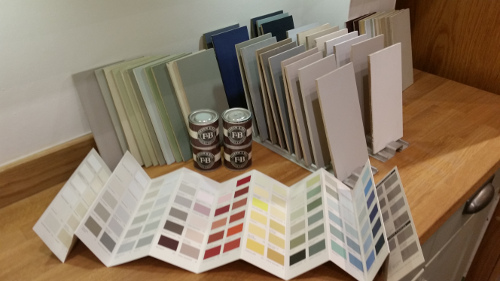 Bespoke Coloured Lacquer Furniture
Two pack lacquered paint is extremely hard wearing and durable making it easy to maintain for years to come.
Each piece is individually painted before our cabinet makers construct the furniture which gives you a perfect paint finish.
Each colour will work well alone or mixed with other colours, the lighter creates a well balanced look, while the darker shades drawn from tried and tested heritage colours, this allows you to create your own timeless unique look.
Bespoke Coloured Lacquer Kitchen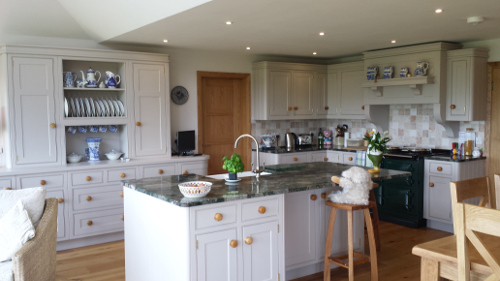 Bespoke Coloured Lacquered Kitchen
Pictured here is our beautiful hand crafted, hand sprayed, in frame Edwardian style kitchen.
Each detail of this painted kitchen exudes quality craftsmanship. Drawing inspiration from the Edwardian era this design features soft corners, curved doors, conveying a piece of past refinement to create a stunning centre piece.
Of course we can hand spray your kitchen in any colour palette you wish. This design incorporates Granite worktops a stunning cooking overmantle, range cooker and a Belfast sink to the island giving this beautiful kitchen a timeless look.
Bespoke Coloured Lacquer Bedroom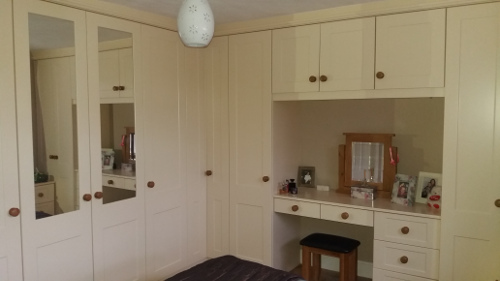 Bespoke Coloured Lacquered Bedroom
Here this Bedroom with its shaker style simplicity exudes quality.
Hand sprayed in Pointing gives this bespoke bedroom a neutral feel.
This subtle gentle colour is set off by the beautiful hand turned solid Oak Knobs.
The design features including mirrors and a vanity unit give this bedroom a character of its own.
Our hand sprayed bedroom furniture is available in any colour you choose.
Our aim is to design something that would be easy on the eye and that you are never going to have to or want to change.
To see more photos please click Coloured Lacquers Furniture Gallery
Please click Showroom Gallery for a taster of what to expect from your visit to Cumbria Kitchen & Bedroom Furniture.