Kitchen Appliances From Cumbria Kitchen & Bedroom Furniture
At Cumbria Kitchen & Bedroom Furniture we provide a wide variety of appliances and accessories to suit our client's needs, these are just a few examples of what we supply.
AEG Kitchen Appliances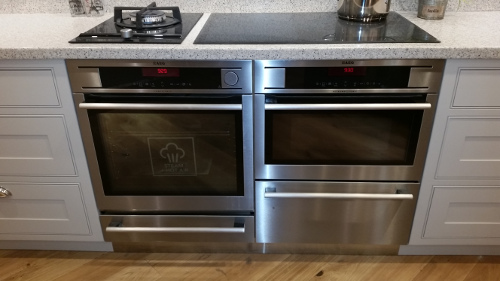 AEG Kitchen Appliances
As an AEG Premier Partner Studio our customers receive a free 5-year warranty when they purchase any AEG studio appliance through us.
AEG offer a wide range of appliances from fan ovens to steam ovens to the sous vide, in which food is cooked at a low temperature in a vacuum-sealed bag to lock in flavours and create tasty dishes.
Most appliances can be seen working in our showroom, such as the high technology induction hob finished in black glass. The temperature can be changed with just one touch, and to compliment the stylish hob is an induction wok, which is a unique design to optimise the cooking technique.
As well as the larger appliances, there is more to be seen, such as the coffee machine, allowing you to make authentic tasting coffee in your own home, or the built in wine cellar with space to store up to 24 bottles.
It's not just cooking that AEG focus on, there's also their range of incredibly efficient dishwashers, fridges, freezers, extractors, microwaves and warmer drawers.
Quooker Hot Tap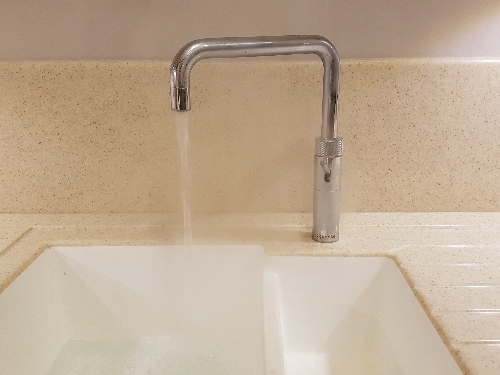 Quooker Hot Tap
Quooker manufactures the new must-have boiling water tap for your kitchen.
These time and money saving taps are available in a range of different designs and finishes from chrome to brushed steel.
The tap produces water at 100°C but incorporating safety features such as the childproof handle and aerated flow of water.
This means there is no need to worry about scalding. A working Quooker boiling water tap is available to see in our showroom.
Kitchen Sinks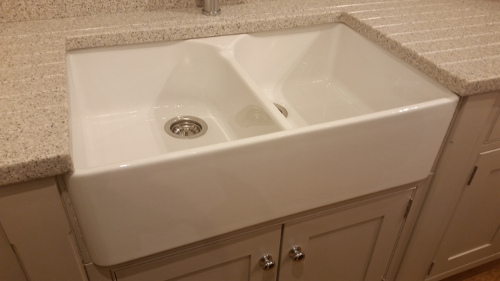 Kitchen Sinks
We use a wide variety of manufacturers for our sinks, including Villeroy & Boch, Shaws, Clearwater, Astracast and Schock.
These are a mix of granite, stainless steel and ceramic sinks as we aim to suit every client's taste.
Shaws sinks have been handmade in England for over 100 years, and their Classic Belfast is one of our most popular sinks, a traditional Victorian sink, perfectly suited for both traditional and contemporary kitchens.
The sink features a unique weir style overflow which allows a larger supply of water. It is perfect for washing large trays and dishes that can't fit into the dishwasher as it is bigger than most other sinks.
Fisher & Paykel Range Cookers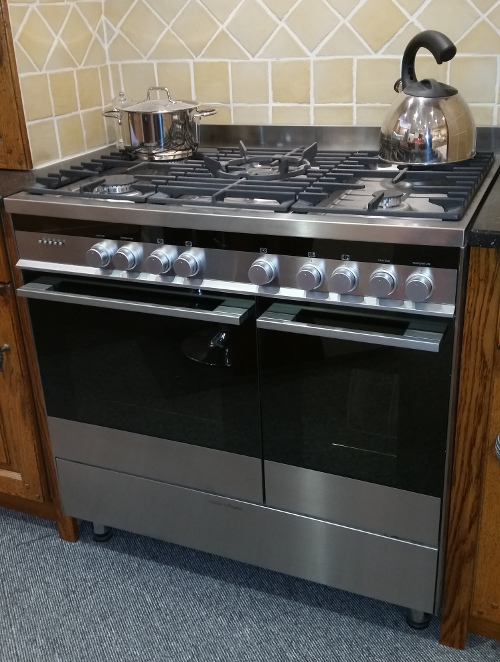 Fisher & Paykel Range Cookers
Fisher & Paykel's range cookers are a great addition to any kitchen, providing outstanding performance and a high quality finish.
The range cookers are available in 90cm or 120cm with up to eight different oven functions from traditional to rotisserie.
There's a 5 burner hob available in gas or induction, giving you plenty of room to cook large exciting dishes.
With all the burners and oven space you would expect the range cooker to be complicated, but with the simple control dials on the front you can't go wrong as they will provide control for exact cooking temperatures.
Safety features such as a built in cooling system and cooler to touch door means that the oven door is safe to touch externally. We have a non-working Fisher & Paykel range cooker in our showroom for clients to see.
Britannia Kitchen Appliances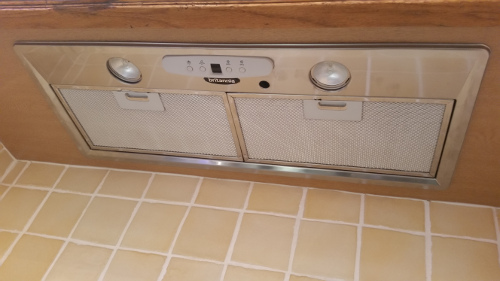 Britannia Kitchen Appliances
Britannia sell a range of appliances including range cookers, fridges, taps and cooker hoods.
The Intimo cooker hood has a sensor which can detect any odours created when cooking, this turns the hood on automatically.
When the odour can no longer be detected it will knock itself off, no assistance is required.
Kitchen Gadgets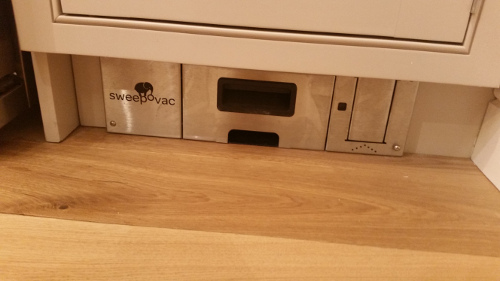 Kitchen Gadgets
In our showroom we have displayed some kitchen gadgets that we can supply.
We have the vertical power dock which can be retracted into the worktop when not in us,e and these come in a chrome or stainless steel finish.
They are designed to be able to withstand splashes of water when closed as they have water channels that filter the water away, a great idea for a busy kitchen.
Other gadgets included in the showroom are the Bluetooth audio system which can be neatly fitted into a worktop or furniture, hidden radios and the sweepovac, a simple and easy vacuum for your plinth, no dust pans needed and can be available in stainless steel, white or black.
Nothing is too much trouble, so if there is any other high technology gadgets that you would want in your kitchen we would be happy to supply them for you.
LED Kitchen Lighting

LED Kitchen Lighting
The kitchen is the heart of the home, a space to feed the family or to entertain guests and so the lighting should perfectly emulate the overall style you are looking for.
We can provide a wide range of lighting for the kitchen, including the energy saving LED lights, available in warm white and daylight white or strip lights which can be placed underneath units to create a certain ambience.
These are available in different colours and are a great addition to any contemporary kitchen.
On display in our showroom, we have colour changing strip lights which are remote-controlled. Sensor lights are popular as the lights can be placed under units or inside cupboards and don't require an on/off switch, we have a number of these available to see in the showroom.
There are many more types of lighting available, and these are only a few examples of what we can provide.
Kitchen Taps
Kitchen Taps
We use a wide variety of manufacturers to give our client the best possible choice for their new kitchen such as Abode, Clearwater, Gessi, Grohe, Kohler, Pegler and Perrin & Rowe.
So whether you want something contemporary or more traditional, there is something to suit you and your taste.
In particular the Gosford tap is a mix of both modern and traditional styling, a twin lever tap which can be available in chrome, brushed nickel or antique bronze.
Please click Showroom Gallery for a taster of what to expect from your visit to Cumbria Kitchen & Bedroom Furniture.