Oak Furniture From Cumbria Kitchen & Bedroom Furniture
Oak (or Quercus as it is known in Latin) is a hardwood with some 400 known species.  It is a dense strong hardwood, popular for its beautiful and attractive grain markings, ideal for furniture requiring strength and reliability.
Traditional Stained Oak Kitchen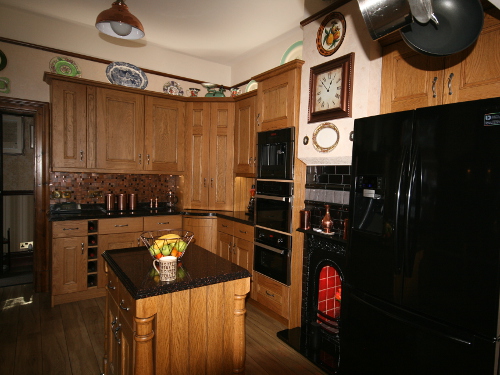 Traditional Stained Oak Kitchen
We use several types of oak wood in the manufacture of our fine furniture, but the most popular by far is the natural oak which has a brown colour running through it, or the distinctive pippy oak, which has a cat paw appearance on its surface.
We use sustainable wood from sustainable forests and our timber suppliers are members of the FSC (Forestry Stewardship Council).
There are several finishes possible for all oak furniture, both in the kitchen and bedroom including lacquer, oil, wood stain and painted.
Oak furniture is used in a wide range of styles, from contemporary and modern, through to traditional and shaker designs, but no matter what style, all our furniture is made to the same high standard by our skilled craftsmen, guaranteeing a longer-lasting piece of furniture.
Here we have used coloured wood stain to provide a professional finish and, with a wide range of colour fast stains, there's a colour for every taste and project.
Modern Natural Oak Shaker Bedroom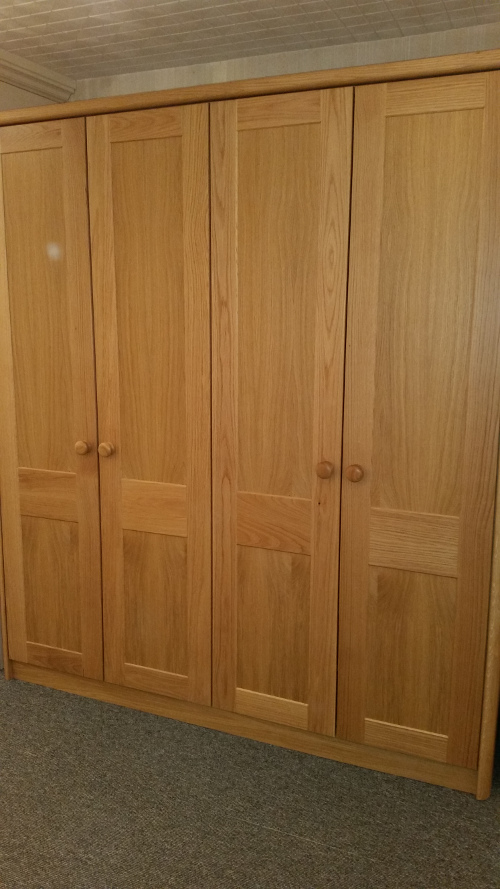 Modern Natural Oak Shaker Bedroom
This example shows an oak shaker style bedroom, finished in a matt lacquer.
We consider the lacquered finish to be the best for oak, as it imparts an incredible depth and richness and has excellent durability.
We use a post-catalytic lacquer, which is a two-part system mixed in our workshops, following precise ratios which gives a very hard wearing cover to enhance the timber.
As with all our bespoke furniture the choice of styles and finishes is virtually unlimited.
Solid Oak Distressed And Pegged Door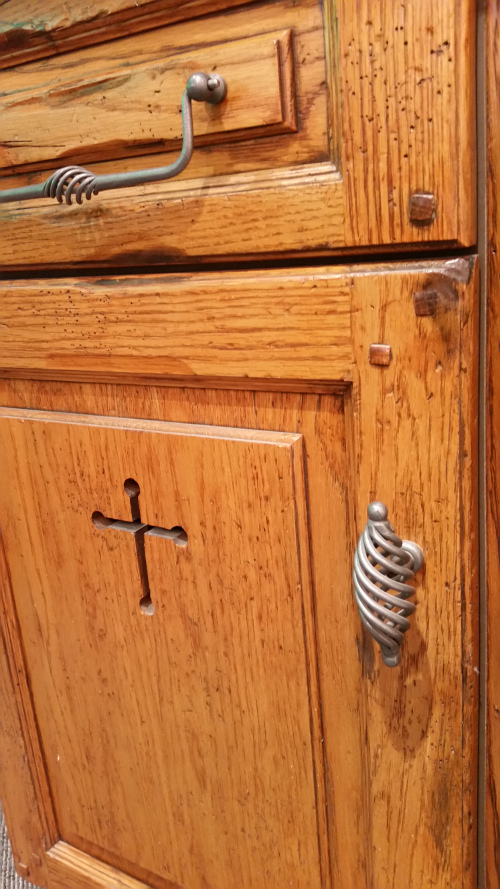 Solid Oak Distressed And Pegged Door
This door, made from the finest European oak, has been pegged and heavily distressed to give the appearance of antique furniture.
This particular piece was made to match existing furniture and old oak beams in a converted chapel.
This style of finishing is particularly suited to country properties of which we are blessed with a wealth of in Cumbria and South West Scotland.
To see more photos please click Oak Furniture Gallery
Please click Showroom Gallery for a taster of what to expect from your visit to Cumbria Kitchen & Bedroom Furniture.