Before And After Gallery
Some interesting before and after projects, more to come soon!
Prince Charles Meets Mr Cookson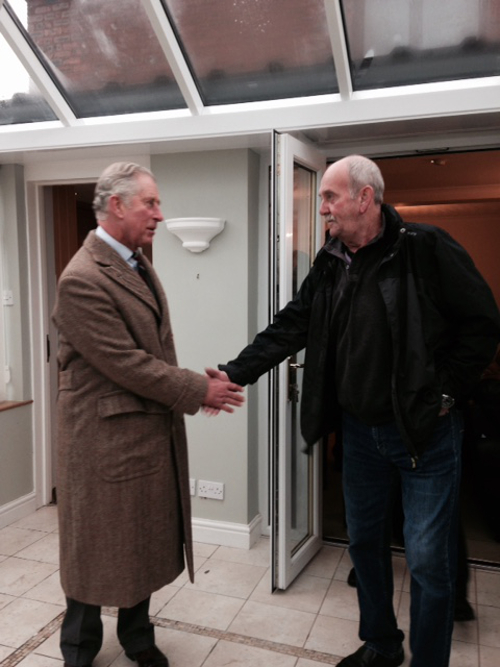 Project One
STORM DESMOND DECEMBER 2015: Thousands left without power as Carlisle, Cumbria and South West Scotland Were hit with severe flooding.
Over 50,000 homes in the North of England were cut off after substations were flooded; hundreds of families were forced from their homes as storm Desmond brought severe flooding and winds up to 80mph.
Bridges collapsed, rivers burst their banks and landslides were triggered by torrential rain fall. In Warwick Road Carlisle residents Barry and Sandra Cookson once again called upon us to reinstate their flood damaged kitchen.
Pictured here is Barry along with His Royal Highness Prince Charles, Prince of Wales surveying the damaged kitchen which was supplied by us in 2005's devastating floods.
Mr & Mrs Cookson came back to Cumbria Kitchen & Bedroom Furniture again because "the quality of the product is second to none and they have the service to back it up".
Click Kitchen Project One for lots more photographs.
Kitchen Renovation Work Is Underway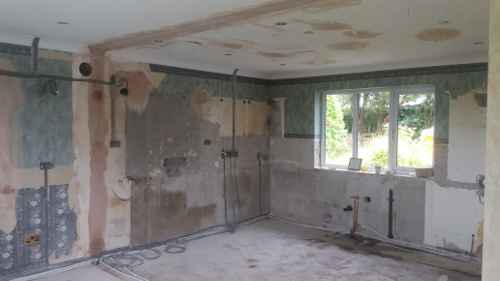 Project Two
Company directors Mr & Mrs Smith wanted not just any old kitchen for their country home in Cumbria.
Brian & Judith went to several retailers in the search for a new kitchen looking in particular at the handmade bespoke sector.
However, in the end were won over by the full project management service offered by Cumbria Kitchen & Bedroom Furniture.
Pictured here the kitchen has been completely stripped out, wall knocked down, floor tiles lifted, window removed and blocked up and plaster rendered to the outside.
The first fix plumbing, electrical work and interior plastering have all been carried out ready for the furniture installation team. All followed by the painter and decorator.
Click Kitchen Project Two for lots more photographs.
Please click Showroom Gallery for a taster of what to expect from your visit to Cumbria Kitchen & Bedroom Furniture.