Tulipwood Furniture From Cumbria Kitchen & Bedroom Furniture
Most commonly Tulipwood is a yellow pinkish timber yielded from the Tulip tree also known as Tulip Poplar. Mainly found on the Eastern side of North America and can exceed 100 feet in height.
Hand Paint Or Sprayed Finishes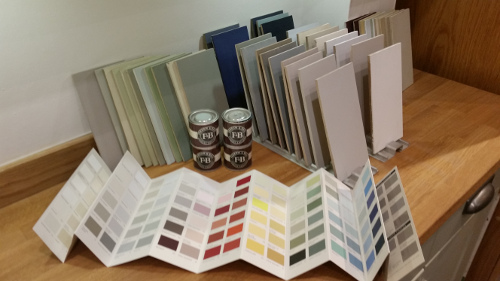 Bespoke Tulipwood Furniture
Is a very strong hardwood and can be used in many applications, furniture making is one of them.
Tulip wood is a very stable timber with minimal woodgrain and is therefore perfect for applying paint or lacquer whether its hand applied or a spray finish.
You can choose from our very extensive colour palette including Farrow & Ball, Little Greene paint companies and many more.
Hand Painted On Tulipwood Kitchen
Hand Painted Tulip Wood Kitchen
Pictured here is our beautiful hand crafted, hand painted in Farrow & Ball French Gray on Tulip wood, in frame kitchen.
Each detail of this painted kitchen exudes quality craftsmanship. Door panels are raised and fielded with brass butt hinges with iron work Black Country handles.
This design features Bi-folding doors opening up to reveal a working and storage area conveying a piece of past refinement to create a stunning centre piece.
Fully Integrated built under fridge and freezer is flanked by deep storage drawers finished off with soft corners.
Of course we can hand craft your kitchen in a timber finish too, including European Oak, American Oak, Sweet Chestnut, Pippy Oak, Ash, Maple and much more.
Hand Sprayed On Tulipwood Bedroom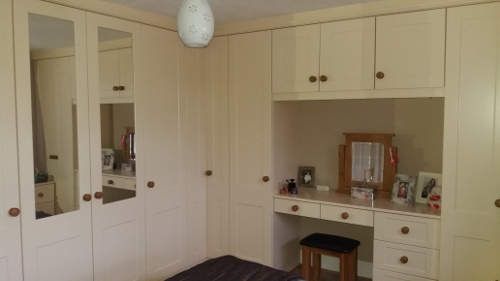 Hand Sprayed On Tulipwood Bedroom
Here we have a hand crafted, hand sprayed on tulip wood Bedroom.
The door is a simple shaker style with hand turned solid oak knobs.
The light colour gives a very neutral feel to the room and the mirrored doors give a feeling of extra space.
The subtle design features include a vanity mirror and vanity drawer unit giving a minimal look a little character of its own. Our hand sprayed bedroom furniture is available in any colour you choose.
Our aim is to design something that would be easy on the eye and that you are never going to have to or want to change.
To see more Tulipwood Furniture photos please click Framed Kitchen Gallery all of which were hand-made using tulipwood.
Please click Showroom Gallery for a taster of what to expect from your visit to Cumbria Kitchen & Bedroom Furniture.