Maple Furniture From Cumbria Kitchen & Bedroom Furniture
Maple (or acer saccharum as it is known in Latin) unlike most other hardwoods, the sapwood of Maple wood is most commonly used rather than its heartwood, ranging in colour from nearly white to an off-white cream colour. Its grain is generally straight, but can be wavy and has a very fine and even texture.
Modern Maple Shaker Galley Kitchen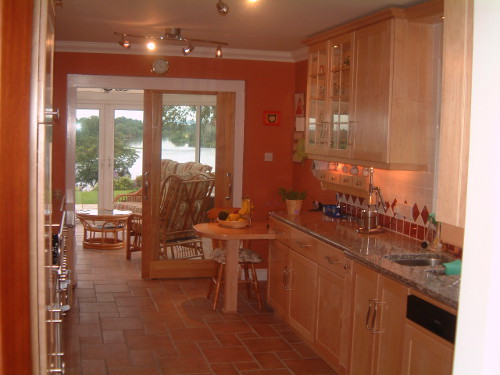 Bespoke Maple Kitchen Furniture
No two trees are alike, and the unique beauty and elegance of maple is expressed in the character of each kitchen unit as it is crafted to create classic and sophisticated cabinets that stand the test of time.
Shown here is a fine example of a maple kitchen in a drawer line style, with granite worktops, and modern stainless steel handles to match the appliances.
The bespoke cabinets are fitted from floor to ceiling, with display units for the fine china.
Maple as the lightest of the furniture grade hardwoods is ideal in kitchens where natural light is in short supply.
Bedroom Doors In Solid Maple With Raised-Panels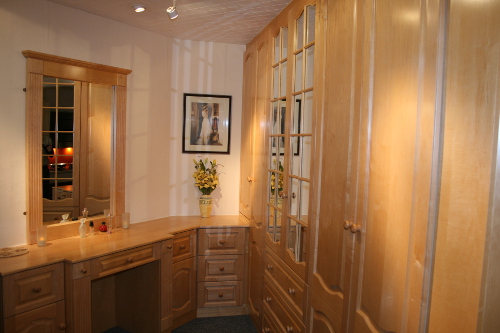 Maple Bedroom
This example shows floor to ceiling bedroom furniture, with a raised panel door in solid maple.
Designed, built and fitted perfectly for your very own bedroom, the fine texture of maple gives a really smooth finish and the colour gives a light and airy feel to the room.
The mirrored centre doors have matching wood astricles.
Pull Out Bedroom Vanity Unit Pilaster
Maple Pilaster
This beautiful decorative pilaster also has a function.
It opens to reveal everything you need organised and to hand for your daily routine.
Your sprays, make up remover, perfumes and creams, all hidden away from view to leave your dressing table clutter free.
To see more photos please click Maple Furniture Gallery
Please click Showroom Gallery for a taster of what to expect from your visit to Cumbria Kitchen & Bedroom Furniture.